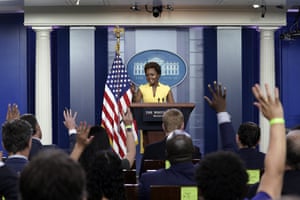 6.25pm EDT18:25
Most Asian Americans feel unsafe in public sometimes because of their race, poll finds
A majority of Americans think discrimination against Asian Americans has increased over the past year, and many are concerned that incidents of violence are up as a result of the coronavirus pandemic, the Associated Press reports.
Most Asian Americans feel unsafe in public because of their race at least sometimes.
Eugene Scott
(@Eugene_Scott)
Sixty percent of Americans say discrimination against Asian Americans is higher now compared with a year ago. Most Asian Americans report feeling unsafe in public because of their race at least occasionally.https://t.co/68BaQNJaxU
May 26, 2021
Only 16% of White Americans who responded to the survey described feeling unsafe in public at least sometimes because of their race, compared with 57% of Asian Americans, 63% of Black Americans, and 44% of Hispanic Americans.
Lois Beckett
(@loisbeckett)
Most Black and Asian Americans feel unsafe in public at least sometimes because of their race, a new survey finds: https://t.co/jg1sXzz9Np pic.twitter.com/vqgGZP5GtF
May 26, 2021
The nationwide poll of 1,842 adults was conducted April 20-May 3, 2021. More details on the survey methodology here.
6.10pm EDT18:10
Insurrection math: will enough Republicans support a 6 January commission?
Will enough Republican senators break with their party to support the creation of a 9/11-style commission to investigate how a mob of Trump supporters broke into a poorly-defended Capitol building on 6 January, forcing lawmakers of both parties to flee?
NBC News' Sahil Kapur is tracking senators' statements on the issue, and created a useful emoji infographic:
Sahil Kapur
(@sahilkapur)
EMOJI WHIP COUNT: On voting to break a filibuster of Jan. 6 commission bill
Murkowski 👍
Collins 👍
Romney 👍
Cassidy 🤔
Portman 🤔
Sasse 🤔
Capito 🤔
Toomey 🤔
Moran 🤔
Wicker 🤔
Thune 🤔
Burr 👎
Tillis 👎
Rubio 👎
Ernst 👎
R.Scott 👎
McConnell 👎
(10 GOP 👍 needed to proceed)
May 26, 2021
Susan Collins, the Maine Republican who has come out in support of the commission, also has some proposed changes in how it would operate:
Jake Sherman
(@JakeSherman)
NEWS: @SenatorCollins has a new amendment to allow the chair/vice chair of Jan. 6 cmte to jointly select staff
ALSO: ends the committee 30 days earlier than the original bill
May 26, 2021
Updated
at 6.12pm EDT
6.06pm EDT18:06
Democrats fight over bill that would reform the military's approach to sexual assault
Senator Kirsten Gillibrand, a New York Democrat, has made the problem of sexual assault in the military one of her key policy issues. She's now fighting against another Democrat, Senator Jack Reed, to get a vote on her bipartisan legislation, which would change military law to take authority for deciding military sexual assault cases out of the control of military commanders.
The change has attracted support from key Republicans, including Senator Joni Ernst, who has spoken out about her own experience of sexual assault. But it's being blocked by Reed, the Democratic chair of the Senate Armed Services Committee, Politico reports.
Burgess Everett
(@burgessev)
Gillibrand on the floor for the third day in a row demanding a vote on military sexual assault reform. Reed blocked it twice earlier this week, saying he'll handle in committee
She's been working on this for about eight years
May 26, 2021
More context here from The Hill:
The Hill
(@thehill)
Democratic feud erupts over scope of military sexual assault bill https://t.co/CPifA7Be21 pic.twitter.com/TyXSL4dn7c
May 25, 2021
Updated
at 6.23pm EDT
5.48pm EDT17:48
In response to rising homicides, the justice department focuses on prevention
This is Lois Beckett, picking up our live US politics coverage from Los Angeles.
Homicides surged across the United States during the coronavirus pandemic, in what could be the worst single-year increase in killings in decades. While final national data will not be available for months, one expert estimates the country may have seen an estimated 4000 additional murders in 2020, compared with 2019.
Biden's justice department announced its new violent crime strategy today. Department officials who briefed reporters ahead of the announcement emphasized the importance of non-law enforcement prevention programs, and made clear that US attorneys across the country would not be allowed to measure their success simply in terms of how many people they locked up, rather than whether there was evidence that violence was actually falling.
Lois Beckett
(@loisbeckett)
Justice Department just announced a new violent crime prevention strategy:
-Focusing on non-law enforcement prevention methods, including street outreach + hospital violence intervention programs
-Moving away from raw # s of arrests/prosecutions as the measure of success
May 26, 2021
The officials who briefed reporters emphasized principles and rhetoric straight out of the decades of academic research on violence prevention, including the importance of focusing on the relatively tiny number of people and places responsible for the majority of fatal violence.
Lois Beckett
(@loisbeckett)
In a background call, DOJ officials laid out a violent crime strategy that's precisely in line with current academic research:
"We are very laser-focused on trying to identify the people and the places that are most responsible for the current violence," one DOJ official said.
May 26, 2021
The Guardian investigated the intense concentration of America's gun violence problem in 2017, and explored the strategies behind the dramatic decline in murders in California's Bay Area in 2019.
Updated
at 5.52pm EDT
5.00pm EDT17:00
Today so far
That's it from me today. My west coast colleague, Lois Beckett, will take over the blog for the next few hours.
Here's where the day stands so far:
Joe Biden has asked the intelligence community to "redouble" its efforts to study the origins of coronavirus. The president is requesting a follow-up report on the issue within 90 days. The request comes days after the Wall Street Journal broke the news of a previously undisclosed US intelligence report about three Wuhan researchers being hospitalized with coronavirus-like symptoms in November 2019. The report intensified speculation that the virus started spreading as a result of a laboratory accident.
A shooting at a railyard in San Jose, California, left eight people dead, in addition to the shooter, who was identified as an employee of the Valley Transportation Authority. Biden has been briefed on the shooting, and vice-President Kamala Harris described it as "absolutely tragic".
US diplomats sent a letter to the state department complaining that those with "Havana syndrome" are being denied proper care, according to NBC News. The diplomats are calling for the Biden administration to take the condition more seriously, NBC reported.
Senate Republicans will soon propose a counteroffer in the ongoing negotiations over an infrastructure package. The Republican negotiators are expected to propose spending $1tn on an infrastructure bill, which is still far less than the $1.7tn that Biden called for last week, when he issued his own counteroffer.
Karine Jean-Pierre made history as the first openly gay person and the second Black woman to ever hold a White House briefing. The principal deputy White House press secretary held her first formal briefing with reporters this afternoon.
The blog will have more coming up, so stay tuned.
Updated
at 5.06pm EDT
4.43pm EDT16:43
"Hi, everybody! Welcome!"
So, with a rustle of papers, began a new chapter in the White House briefing room on Wednesday when Karine Jean-Pierre became the first openly gay person to address reporters on behalf of the US president.
She was also the first Black woman to do so since Judy Smith, a deputy press secretary for President George H W Bush – and inspiration for Olivia Pope in the TV drama Scandal – stood at the podium some 30 years ago.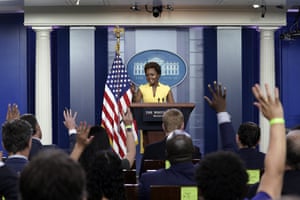 White House principal deputy press secretary Karine Jean-Pierre speaks during a press briefing. Photograph: REX/Shutterstock
The briefing was widely seen as an audition by Jean-Pierre, who is currently principal deputy press secretary, for the top job of presidential spokesperson. The incumbent, Jen Psaki, who has been briefing almost daily, said recently she intends to leave the post after a year.
Did Jean-Pierre pass the audition? Joe Biden will be the ultimate judge of that but it would fair to say that she observed the first rule for press secretaries: do no harm. Her replies were noncommittal, uncontroversial and not likely to generate unwanted headlines.
4.26pm EDT16:26
Vice-President Kamala Harris, a former senator of California, described today's mass shooting in San Jose as "absolutely tragic".
Speaking at the beginning of a meeting with members of Congress on investing in broadband infrastructure, Harris noted she has family members who live in San Jose and has worked with the mayor and police department there.
"My prayers and my thoughts are with all of those families affected," Harris told reporters.
Tim Perry
(@tperry518)
NEW: @VP Kamala Harris makes first comments on today's shooting in San Jose, CA. Harris called the shooting, "absolutely tragic." pic.twitter.com/bDqNRtzdle
May 26, 2021
Updated
at 4.33pm EDT
4.05pm EDT16:05
Joe Biden has been briefed on the mass shooting today at a railyard in San Jose, California, the White House said in a statement to the press pool.
"The President has been briefed on the mass shooting and the tragic loss of life in San Jose by his Homeland Security Advisor, Liz Sherwood-Randall. The White House continues to monitor the situation and remains in close contact with local officials to offer any assistance as needed," the statement said.
Local authorities said eight people were killed in the attack, in addition to the shooter, who was identified as an employee of the Valley Transportation Authority. Multiple other people were injured in the shooting, and a police spokesperson warned the death toll could still rise.
3.47pm EDT15:47
Diplomats say 'Havana syndrome' sufferers not receiving adequate care

US diplomats and other officials experiencing symptoms that appear to be consistent with the unexplained brain injury known as Havana Syndrome have written a letter to the US state department saying those affected are being denied appropriate care.
NBC News, which obtained the letter, reports that staffers have claimed that the Biden administration has continued to "invalidate our injuries and experiences," and they are calling for the condition to be treated more seriously.
Last month, The New York Times reported that there had been more than 130 incidents of Havana syndrome among US diplomats, spies and defence officials, some of them very recently. The Times said three CIA officers had reported serious symptoms since December, following overseas assignments.
The Guardian's world affairs editor, Julian Borger, reported at the time:
In December, the National Academy of Sciences published a report saying that the brain injuries suffered by US government employees in Cuba and China were most likely the result of some form of directed energy.
Cheryl Rofer, a former chemist at the Los Alamos National Laboratory, has questioned the study's conclusions, and the claim by victims and some experts that some kind of microwave weapon developed by an adversary is responsible for Havana syndrome.
'The evidence for microwave effects of the type categorized as Havana syndrome is exceedingly weak,' Rofer wrote in Foreign Policy.
Updated
at 4.16pm EDT
3.28pm EDT15:28
Republican Senator Tim Scott said Congress must reach a deal on the policing reform bill next month, as bipartisan negotiations over the legislation continue.
"It's June or bust," Scott told a PBS Newshour reporter. "We've got three weeks in June to get this done."
Lisa Desjardins
(@LisaDNews)
NEW – police reform timing. Key negotiator Sen Tim Scott to me just now on police reform talks:
"It's June or bust." "We've got three weeks in June to get this done."
May 26, 2021
Scott is one of three lawmakers, along with Democratic congresswoman Karen Bass and Democratic Senator Cory Booker, who are involved in the negotiations over the bill.
Joe Biden had originally said he hoped to sign the bill by the one-year anniversary of the death of George Floyd, the Black man who was murdered by a white Minneapolis police officer last May.
But that anniversary came and went yesterday without a final deal on the policing bill. Biden met yesterday with some of Floyd's family members, who urged Congress to pass the legislation as quickly as possible.
Speaking to reporters this afternoon, deputy White House press secretary Karine Jean-Pierre said policing reform remains a "top priority" for the president.
"He is going to continue to work on this today, tomorrow and every day," Jean-Pierre said.
This Week
(@ThisWeekABC)
"When it comes to police reform, this is a priority for this president."
"He is going to continue to work on this today, tomorrow," deputy press sec. Karine Jean-Pierre says. "This is a top priority. He wants to see the George Floyd Act be signed into law." pic.twitter.com/eCpA5qX3kw
May 26, 2021
3.06pm EDT15:06

President Joe Biden has paid tribute to former Virginia Republican senator John Warner who died on Tuesday aged 94, saying he "lived an extraordinary life of service and accomplishment".
In a statement issued Wednesday, Biden said: "I had the privilege of serving alongside John in the Senate for three decades. The John Warner I knew was guided by two things: his conscience and our Constitution. And, when acting in accordance with both, he neither wavered in his convictions nor was concerned with the consequences."
He added: "When told that if he voted in a way that was not in line with his party's position—as he did numerous times on issues of rational gun policy, women's rights, and judicial nominees—that "people would say," his favorite rejoinder was, "Let 'em say it."
"Indeed, that was his response when, in one of the great honors of my career, he crossed party lines to support me in the 2020 election."
Biden ended the statement by saying "our hearts and prayers are with his family".
2.56pm EDT14:56
White House reportedly finalizing plans for Biden to meet the Queen

The White House is reportedly finalizing plans for president Joe Biden to meet with Queen Elizabeth II during his first trip abroad next month, according to CNN.
"This face-to-face greeting, during which Biden would be joined by first lady Jill Biden, is expected to take place before the president leaves the United Kingdom following the Group of 7 summit," CNN reported, citing an unnamed US official.
The official reportedly said the White House and Buckingham Palace were finalizing details on Wednesday, and an announcement was expected in the coming days.
The Queen, who is 95 years-old and is the world's longest-reigning monarch, has met every US president since Harry Truman, with the exception of Lyndon Johnson. If the meeting goes ahead, Biden would be the 13th American president she has met.
Updated
at 3.03pm EDT
2.23pm EDT14:23
Karine Jean-Pierre indicated the Biden administration will also continue to press the World Health Organization to gather information on the origins of coronavirus.
"We've been very clear with the WHO to continue to get to the bottom of this," the deputy press secretary said. "We're going to continue working with the WHO."
Jean-Pierre noted Joe Biden brought the US back into the WHO after Donald Trump withdrew from the organization, and she said the president made that decision partly to hold the group accountable when it comes to investigating the origins of coronavirus.
The White House press briefing has now concluded.
2.17pm EDT14:17
A reporter pressed Karine Jean-Pierre on what has changed recently to make Joe Biden call for a 90-day intelligence community review of the potential origins of coronavirus.
The New York Times reporter noted that Jean-Pierre's boss, press secretary Jen Psaki, had been emphasizing the World Health Organization's investigation (rather than a domestic investigation) as recently as last week.
Jean-Pierre insisted nothing has changed in recent days, telling reporters, "We don't speak about everything under review."
Biden's announcement came days after the Wall Street Journal broke news of a previously undisclosed US intelligence report about three Wuhan researchers being hospitalized with coronavirus-like symptoms in November 2019, intensifying speculation that the virus spread as the result of a lab accident.
2.06pm EDT14:06
Asked if the US intelligence community has ruled out the possibility of a deliberate release of coronavirus, Karine Jean-Pierre replied, "We haven't ruled out anything yet."
The deputy White House press secretary repeatedly emphasized that the administration will have more information to offer on the investigation into the origins of coronavirus once the 90-day intelligence community review is completed.
Jean-Pierre repeatedly criticized China for not being transparent with its information on the origins of the virus, echoing comments from other senior administration officials and international leaders.
1.57pm EDT13:57
Eight victims killed in San Jose shooting, officials say
Deputy press secretary Karine Jean-Pierre was asked about the White House's response to the shooting this morning at a railyard in San Jose, California.
"Our hearts go out to the victims and their families," Jean-Pierre said. "There is an ongoing investigation, as we all know. We will continue to stay in close contact with them and offer any assistance as needed."
San Jose officials have just confirmed that eight people died in the shooting, in addition to the shooter, who reportedly died by suicide after the attack.
A police spokesperson warned that the number of victims could change, as multiple other people were injured in the attack.
CBS News
(@CBSNews)
BREAKING: At least eight people are confirmed dead after the mass shooting at a San Jose rail yard, in addition to the suspected shooter, police say https://t.co/BuWF2htFwf pic.twitter.com/ksGRW3gXSx
May 26, 2021
1.49pm EDT13:49
One reporter asked Karine Jean-Pierre to reflect on her history-making appearance at the White House briefing room podium today.
"It's a real honor to just be standing here today. I appreciate the historic nature" of this moment, the deputy White House press secretary said.
But Jean-Pierre emphasized that this administration is not about any one person and is instead focused on the collective efforts to improve American lives. She also promised to be "truthful" and "transparent" while speaking to the press.
"Clearly, the president believes representation matters, and I appreciate him giving me this opportunity," Jean-Pierre said.
CBS News
(@CBSNews)
Karine Jean-Pierre — the second Black woman to ever lead a White House press briefing — speaks about making history in her role: "It is a real honor to be standing here today. I appreciate the historic nature…Clearly, the president believes representation matters." pic.twitter.com/ErdayRW4VR
May 26, 2021