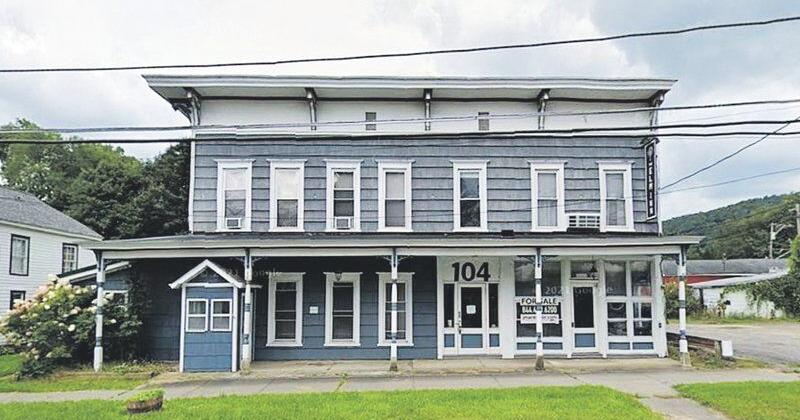 Kat and Dan Wisnosky are breathing new life into an old inn.
The pair is reopening the Elm Inn at 104 East Main St. in Milford as a restaurant-cafe and hotel. Kat Wisnosky said they anticipate opening the bar and restaurant May 20, with room rentals to follow.
Wisnosky, 47, said she and Dan moved upstate in July 2020 and purchased the inn in October 2021.
"I was born and raised in the city, then up in Saratoga," she said. "Dan is from Vegas, and I moved out there, but was kind of desperate to get back home. Initially, we'd looked up (homes) in Saratoga, but everything is expensive up there. We were living in Illinois at the time … and found ourselves having to move. Even though we weren't going to move out of state in the middle of a pandemic, we thought, if we were going to move anyway, we might as well. It was a frantic search for a place to live and we wound up bidding on a VA property in Sharon that we lost … but that turned us on to the area and it literally had everything we wanted: great nature, good culture and Cooperstown is a really cute little city, so we found a realtor and a house in Cherry Valley."
The move, Wisnosky said, prompted a professional re-evaluation, too.
"We both took a detour to go to grad school … at Illinois and both realized academia was not what we wanted to be in," she said. "I spent the first part of my adult life working in hospitality and I come from a hospitality family — two aunts ran a resort property on Long Island and my dad owned a restaurant, so I grew up in the industry — but I wound up leaving and doing a career in IT. So, it's the same old COVID story: we were thinking of transitioning out before COVID, but then had a long time to think about that neither of us was happy sitting at a desk all day.
"We were both really interested in wine," Wisnosky continued, "and we'd talked about making wine and having a place to serve wine … so that was part of our intent when we moved out here, to use our property to do a little farmstead winery and cidery. But (Cherry Valley) is a long drive from everything and not a great place to do hospitality. We kept driving by the Elm Inn and wondered why nobody was doing anything with it; it's a great location and a gorgeous old building and we thought you could do a lot of great things."
Wisnosky said the inn "fell vacant in 2017" and attributed the intervening vacancy to the pandemic.
Wisnosky said, in the restaurant, she's hoping to offer well-rounded American fare. The cafe, she said, will feature board games and teen-friendly entertainment as well as casual fare.
"I love to cook, and we've traveled a lot, so there's going to be some international cuisine influences, but it's a tavern, so American comfort food," she said. "We have a tavern menu that we're working through — nachos, wings, burgers, a pub steak, stuff that's good to share and hang out with your friends. What we really want is for the place to be part of the community: somewhere you can come with friends, shoot pool, drink beer or come on a date night and sit down for a nice meal and a glass of wine and a good cocktail, because we've got that, too. And we want to have a good no- and low-alcohol menu."
Wisnosky said she plans to extend that focus on community to sourcing.
"One of the things we're prioritizing is doing business as much as we possibly can with local farmers and producers for ingredients," she said. "It's ridiculous to buy meat from Kansas or Argentina when some of the best meat I've had is local, and money that stays in the community is more beneficial to me. And we want to try to prioritize our taps and wine on New York state product."
The community, Wisnosky said, has shown reciprocal support.
"The town has been great, and everybody is like, 'Tell me what you need,'" she said. "It's been a hole in the town; every time we're down there, people are stopping by, sticking their head in and saying, 'We're so glad you're opening,' so the community reaction has been amazing. This place has been part of Milford for years. It was built in 1840 and has been (an inn and tavern) since 1883. Almost everybody in Milford has some memory of working there or the rooms, so everybody is super excited."
Wisnosky said she hopes the inn's customer base will "reach pretty far," generating a diverse clientele.
"In talking to people in the service industry and locals, there are not a lot of places that cater to the local market, so we definitely want tourists and are hoping to have a very busy summer with the Dreams Park families and people coming to the lake … and we're hoping to the Glimmerglass folks," she said. "But, after Memorial Day, a lot of places just close; the largest cohort is older people and the 18 to 45 demographic … so we're trying to make sure we have something that really everybody can come in."
For more information, visit theelminnmilford.com or find "The Elm Inn" on Facebook.