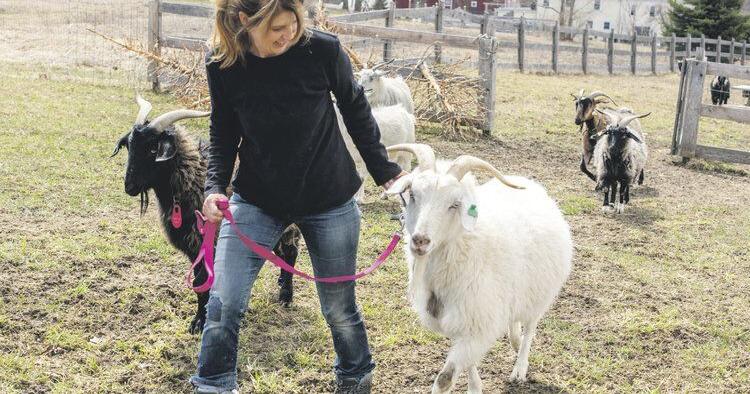 Christine McBrearty-Hulse exchanged guidance for goats when, five years ago, she retired from a career as a school counselor to launch Hulse Hill Farm.
The farmstead at 5928 state Highway 28 in Fly Creek features cashmere goats, bed-and-breakfast accommodations and a farm store with locally crafted goods.
"I retired last June … but I started it as a parallel career, knowing that, when I retired, I'd be young and I had a passion for farming, so I transitioned into this as my next career," McBrearty-Hulse, 56, said.
McBrearty-Hulse, a Cooperstown graduate, said her passion for farming formed over decades.
"We moved here in the early '70s or '80s, so I came in as a fifth-grader … and when I came here, my introduction to getting socially acclimated was getting involved in 4-H," she said. "I did rabbits and my sister did pigs. It was a great learning experience that gave me a ton of skills. Then I went to college and did the educational thing and came back to the area thinking, 'I really do want animals,' so I started with a few, then started bringing them into school. I saw the interaction with kids and, just as you do with therapy dogs, you could get your point across and teach so many things through that interaction with animals. I became really interested in that as a school counselor and used that in my approach.
"From there, I pursued that with the farm, and it became a farmstay for families, offering them that experience," McBrearty-Hulse continued. "And I saw that parents really want their kids to have that experience and learn about animals, because they can use that anywhere in life."
That mentality, McBrearty-Hulse said, has led to growth on and off the farm.
"We've had visitors come numerous times and they know all the animals and we get them involved with chores at whatever level they want to be involved — watering, buckets, gathering eggs, cleaning stalls," she said. "We saw the families, then the next step was thinking, 'What can I do for the local community with a farm that's so close?' Our farm is one of the closest, outside of the Farmers' Museum, to the village of Cooperstown. There is a trail from Main Street — 2.1 miles — by the school to us and that is open for folks to hike … so it's field trips, and that will be pursued now that we're over COVID.
"You can do everything here on the farm as a subject — English, science, vegetable growing, fecal samples with the goats, sustainability and traceability, fiber education," McBrearty-Hulse continued. "I have a gazillion teaching units in my head that apply to any level. And this year — we've always had students help on the farm — we're starting an apprentice program. It's really more for students to experience and see what they can take from farming: working, but also enjoying it.
McBrearty-Hulse said the farm store represents growth, too.
"That came later; we started with the farmstay experience, then from there we opened up the farm shop because we had produce that I'd been giving way," she said. "We feature other farmers and local artisans in there and, if I see someone doing something really neat, I'm all for them having their product there."
Hulse Hill's eclectic offerings, McBrearty-Hulse said, have yielded a varied clientele.
"I think that, because we're so diverse, people have different niches that they like," she said. "We're planting paw-paw trees — they're native to New York state and Cornell has been working with them for a long time — so, for people into gardening or horticulture, we have a sliver of that here; we grow our own food and offer a modern homestead with old practices and new, so some people look at that and get something out of it; with the fiber, the goats are a big draw — probably our No. 1 draw is the cashmere goats — and they are really so unique. A lot of people know alpacas and their wool, but not many people are familiar with cashmere goats, so there's lots of education about goats and fiber in general. The farm shop has regulars that come in all the time for eggs or jams or the hand pies that I do, and I just started events this summer."
McBrearty-Hulse said such events, which include felting, goat-combing and wool-dyeing workshops, underscore her educational mission.
"I didn't feel like there was a lot of chance for ag education programs in a 20- or 30-mile radius, so I started doing these workshops and bringing people in," she said. "I've been advertising from Syracuse to Albany and Ithaca and the Catskills; the farm shop is people who just want fresh value and they come back again and again, so that's more families and definitely locals, but my workshops are pulling from Frankfort and down the Mohawk Valley. Probably 90% of workshop participants aren't (local)."
McBrearty-Hulse said she hopes to expand offerings and visibility.
"We wind down from November to March … but right now, I just want to work on making sure that I'm accessible and keeping that access for the farm open with what I have — the farm shop, apprentice program, farm tours and getting my information out there," she said.
McBrearty-Hulse said the next 10-person workshop, June 18, will highlight scarf making, with cashmere included in the scarves. For a list of upcoming workshop and farm tour dates, as well as hike dates with McBrearty-Hulse's pack goats, visit hulsehillfarm.com.
Also, find "Hulse Hill Farm" on Facebook or follow @hulsehillfarmstay on Instagram.