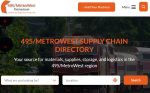 Elevated fast food replacing Wendy's, Regional Supply Chain Directory, and Business-to-Business news" />
I'm rounding up some news on business doings in Southborough.
The one that that's most likely to excite residents is news that a new restaurant is coming to town. But if you own a business in town, news about a specialized directory or some business to business offerings might be of greater interest.
Destination-worthy fried chicken joint Nan's Market will expand to Southborough – February 16th, Boston.com
The story is about owners of a Stow restaurant, Nan's Kitchen & Market, planning to launch a second location on the lot of the abandoned Wendy's on Route 9 in Southborough. 
The chef-led and farm-driven concept is heading for a one-time Wendy's. . .
By the time the second Nan's opens, the Route 9 restaurant won't resemble the home of the Frosty; the team is renovating it to look like a "farmhouse cottage," and even plans to add window boxes growing herbs and kale. But the location aligns perfectly with Nan's mission: To elevate fast-food fried chicken with healthy, farm-fresh ingredients and side dishes, according to chef and co-founder Jordan Mackey. . . 
Though known for their chicken, their offerings cover a wider range of options including breakfast, lunch, dinner, dessert and coffee drinks. They'll also be pursuing a liquor license for selling bottles of craft beer and organic wine. 
Nan's has been so successful that the Southborough expansion is only the beginning, Mackey said. The concept is replicable, he said, and the goal is to be "like a Boston Market for Generation Z."
The Southborough location, headed for 359 Turnpike Road, will offer a similar mix of prepared-to-order and grab-and-go food, plus oven-ready platters for holidays like Thanksgiving, Christmas, and Easter. The drive-through — situated just off the exit lane for I-95 North — will be used for curbside pick-up orders. (read more)
Regional Supply Chain Directory Launched – December 22nd, EDC website
Here's an announcement from Southborough's Economic Development Committee that I missed a couple of months ago: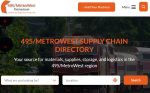 In response to nationwide supply chain issues created by the COVID-19 pandemic, the 495/MetroWest Partnership created an online Supply Chain Directory to support and promote businesses in the region engaged in manufacturing, supplying raw materials, warehousing, transportation, and logistics. The 495/MetroWest Supply Chain Directory is an online informational resource focused on enhancing information about these businesses, aimed at supporting regional supply chain resiliency, and encouraging local sourcing.
The new directory can be accessed via this link which is also accessible on the EDC page of the Town website. (read more)
The following are announcements from companies based in Southborough about new product offerings, business dealings, and more:
CoreStack Partners with Virtusa for Multi-Cloud Governance – February 8th, Business Wire
Virtusa's vGovern cloud governance solution powered by CoreStack's NextGen FinOps, SecOps and CloudOps solutions
CoreStack, a global multi-cloud governance provider that empowers enterprises to unleash the power of the cloud by enabling continuous and autonomous cloud governance at scale, today unveiled a new partnership with Virtusa Corporation. The companies will work together to drive Virtusa's vGovern cloud governance solution with CoreStack's NextGen FinOps, SecOps, and CloudOps solutions in multi-cloud environments. (read more)
xSuite Group Featured as a Top 10 Accounts Payable Solution Company for 2021 by CFO Tech Outlook – January 27th, Business Wire 
xSuite was recognized by CFO Tech Outlook for its disruptive AP Solutions Technology
xSuite Group, a global leader in SAP-based Procure-to-pay (P2P) workflows that specializes in streamlining Accounts Payable (AP) processes, was featured as a Top 10 Accounts Payable Solution Company for 2021 by CFO Tech Outlook. CFO Tech Outlook's list of Top Accounts Payable Solution Companies recognizes industry-leading AP solution providers that have adopted disruptive technologies and amplified their business solutions and AP processes. (read more)
Hospitality Insurance Group Announces New BOP Program – January 20th, press release
Created in Response to Industry Demand for Streamlined Insurance Coverage Options
Hospitality Insurance Group has announced the creation of its first-ever Businessowners Policy (BOP) for commercial policyholders. Effective January 2022, this specialized insurance coverage is now available to existing liquor liability policyholders as well as a variety of other main street businesses. (read more)
nirvanaHealth Introduces Aria Exchange on AWS, the Marketplace-Ready Enterprise Payer Platform– January 13th, Business Wire
so Payers Can Reduce Admin Costs up to 40% Across Enterprise
nirvanaHealth simplifies health insurer exchange participation to empower payers to expand their reach into the exchange, while also reducing admin costs up to 40%. Named 'Aria Exchange', nirvanaHealth introduces its marketplace-ready enterprise platform on AWS, designed to handle the complexity of exchange implementation and operation for both state and federal exchanges simultaneously. (read more)
Veristat Supported Marketing Applications for 12% of all FDA Novel Drug Approvals in 2021 – January 11th, Business Wire
Bridging the Gap between Trial and Treatment by Supporting the Approval of Several Novel Therapies for Rare Diseases
Veristat, a scientific-minded global clinical research organization (CRO), announced today that the Company supported clients in preparing marketing applications for 12% of the 2021 U.S. Food and Drug Administration (FDA) novel drug approvals. This surpasses the number of approvals supported in 2020. In 2021, the FDA approved 50 novel drugs, defined as New Molecular Entities (NMEs). (read more)
Renaissance Alliance Completes Acquisitions of Agency Network Exchange and United Valley Insurance Services – January 4th, Business Wire
Renaissance Alliance, the Agency Growth Engine, has acquired Agency Network Exchange (ANE) and United Valley Insurance Services in separate transactions, adding both organizations to its premier network of independent insurance agencies.
The two acquired networks collectively represent $2.4bn in premium and are key additions in Renaissance Alliance's national growth strategy. (read more)