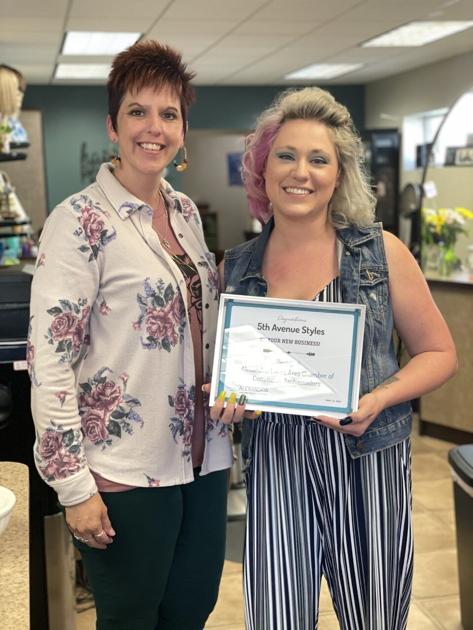 The Alexandria Lakes Area Chamber of Commerce Ambassadors recognized four local businesses on Wednesday, May 12, 2021.
5th Avenue Styles, formally known as Hair Profiles, is located at 115 5th Ave. W. Carley Yeats, current owner, recently bought the salon from her grandmother which had been in operation for 51 years, starting as Darling Coiffures. It is a full-service salon offering hair, nails, facial services and more. Yeats is planning major renovations in the future. Learn more by searching 5th Avenue Styles on Facebook.
Fired Up Bar & Grill, formally known as Red Birds Sports Bar, is located at 530 County Rd. 22 NW. Owners are Tanya Hagen and daughter, Mariah Hagen. Its name is inspired by a focus on grilled and smoked menu items. The restaurant hosts volleyball league twice weekly during the summer months and recently built two firepits. Learn more by searching Fired Up Bar & Grill on Facebook.
JS Design recently moved to 605 Broadway St. in downtown Alexandria. Owner, Jill Stoeck, has been in the building industry for more than 30 years. JS Design is a full-service interior design business working with a team of builders, subcontractors, artisans, landscapers and more. Stocek's goal when designing a space is to have it reflect the client and not herself. Learn more at jillstoeckdesign.com.
Precision IT Solutions recently moved to 1229 N Nokomis NE. It offers services for companies, groups and individuals and has more than 20 years of experience in the field. Some services include Information Technology Consulting, MSP and Off-Site Backup. The Apple and Microsoft certified staff offers service for all devices within a company for a monthly fee. Its off-site backup has local and cloud-based servers. Learn more at pitsmn.com
The Chamber Ambassadors serve as an active communication link to cultivate and promote positive relationships between the Chamber and the business community for members and non-members.
For more information about the Alexandria Lakes Area Chamber of Commerce, visit www.alexandriamn.org or call 320-763-3161.