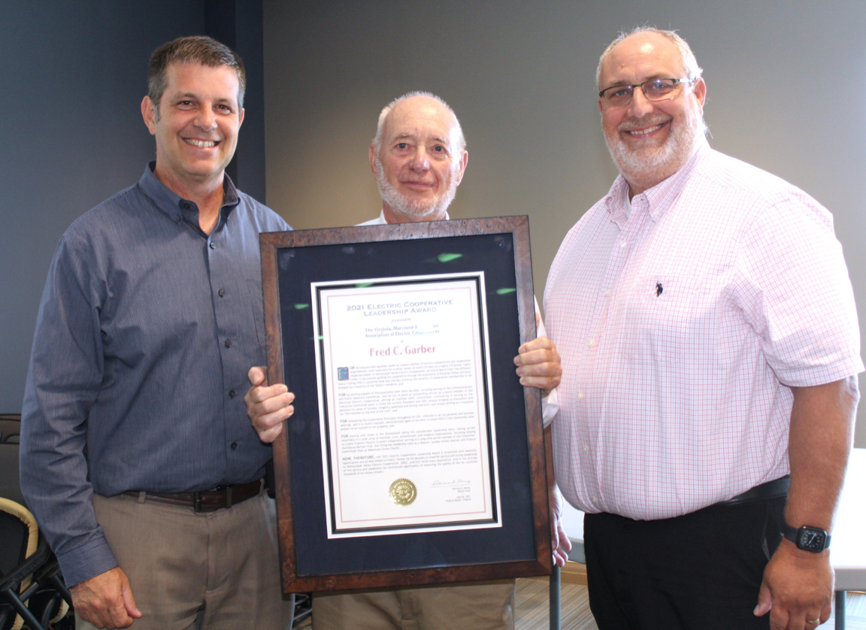 Cooperative Award
Fred C. Garber, of Mount Jackson, a farmer, businessman and longtime electric cooperative director, is the recipient of the 2021 Electric Cooperative Leadership Award from the Virginia, Maryland and Delaware Association of Electric Cooperatives.
Garber received the association's highest award July 22 at a reception at the Rockingham office of Shenandoah Valley Electric Cooperative, where he served as a member of the board of directors from 1984 until 2019.
He was cited for his record of visionary leadership, creative problem-solving and community involvement that have enabled SVEC to better serve its 80,000 members across all or parts of eight counties and the city of Winchester.
A Harrisonburg native, Garber grew up on a dairy farm in Weyers Cave. He graduated from Middle River High School and Blue Ridge Community College, and was active in FFA for many years. He and his wife, Barbara, purchased Mount Jackson Farm Service in 1973, operating it for 30 years. Garber is a longtime member of the Forestville-Quicksburg Ruritan Club and is an active member of his home church, Wakemans Grove Church of the Brethren.
On the co-op board, Garber aided with the development of the Virginia Poultry Growers Cooperative and the purchase of territory formerly served by an investor-owned utility that more than doubled SVEC's membership. He was also the cooperative's representative on the Old Dominion Electric Cooperative board of directors.
In retirement, Garber's farm in Shenandoah County is hosting SVEC's first community solar project.
Food Lion
Food Lion has announced its to-go grocery pickup service is now available at its Woodstock store.
Customers can confirm availability and place orders through the https://shop.foodlion.com/ app. Customers can also link their personal MPV savings loyalty card to their account to use digital coupons and redeem Shop & Earn MVP rewards program savings.
Submissions
Send in your events at www.nvdaily.com/site/forms