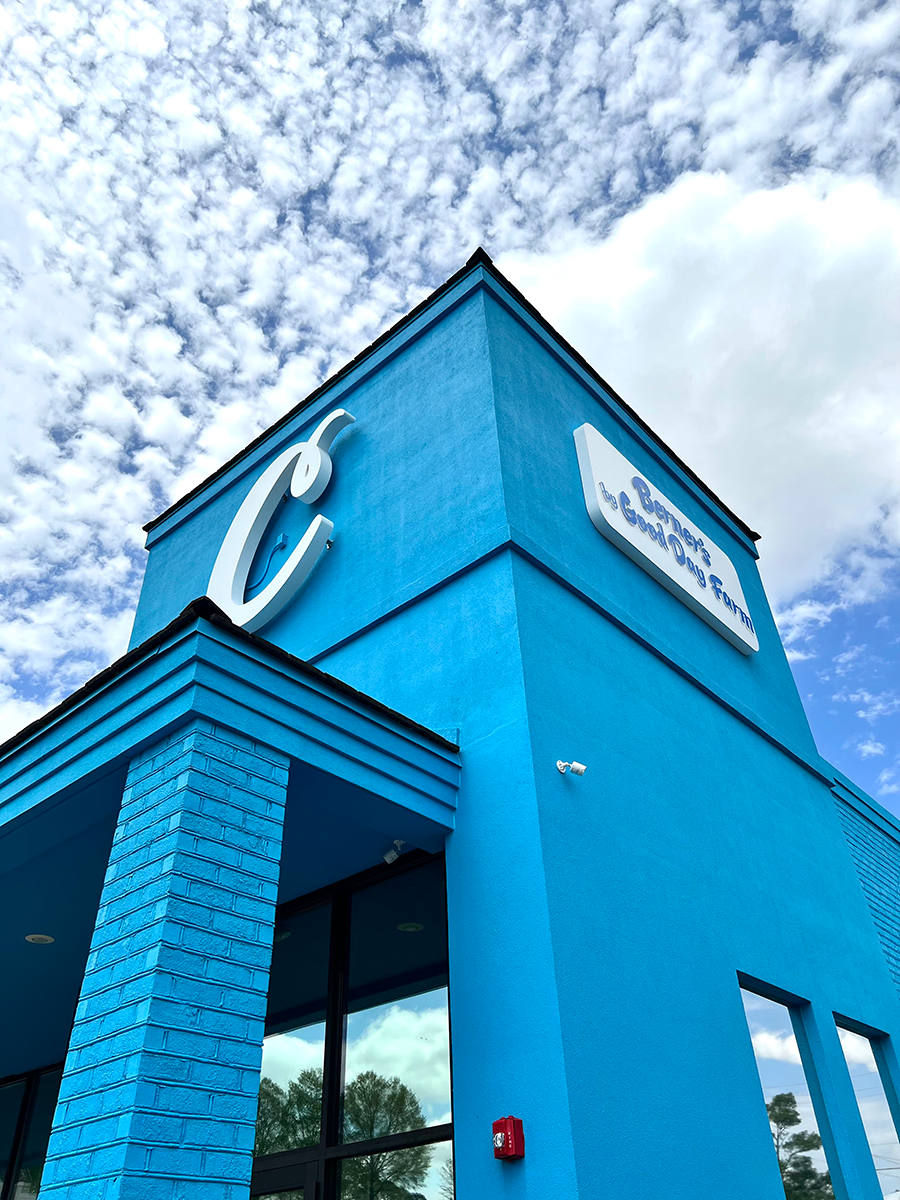 We were unable to send the article.
Berner was the toast of Little Rock on Friday, and not just with the customers who formed a snaking line of at least 100 patients outside the new west Little Rock medical cannabis dispensary branded in his name.
A budtender at a competing Little Rock dispensary was asking patients all weekend if they'd seen the San Francisco rapper, retailer and co-developer of the Cookies brand, who ran a California cannabis club at 18 in his first blossoming as an entrepreneur.
The celebrity himself, along with his entourage, was beaming as he talked outside the powder blue store, Berner's by Good Day Farms, at 11600 Chenal Parkway, directly behind the Purple Cow.
"This is a big milestone for us," Berner told Arkansas Business after asking his DJ for a little less volume at Friday's grand opening celebration. "Cannabis being available in the South, our ability to expand our footprint into Arkansas. It's kind of hard to soak in, actually."
The dispensary is the 48th nationwide and the first in Arkansas to be branded for Berner, given name Gilbert Anthony Milam Jr., founder of Cookies with Bay Area cultivator Jai and now the company's CEO. The 4,034-SF Chenal dispensary's opening was the introduction of the brand to the Arkansas market.
"It's really cool to see how receptive everyone is, how good the team is, how much they have an understanding of our vision, of our journey, and they're executing the hell out of it," said Berner, who wore a gold-plated marijuana leaf on a neck chain and his brand, Cookies, on his sleeve. (Actually, right next to it, tattooed onto the heel of his right hand.)
Berner, who named his own record label Bern One Entertainment in 2007 and whose song and album titles include "Hempire" and "Drugstore Cowboy," has a clothing and lifestyle store on Haight Street in San Francisco to go along with his four dozen dispensaries. Most are in California, but Berner just opened up new sites in Michigan and Hawaii, and he will soon be in the newly legal New Jersey market.
"The last time I was in Little Rock, I was on a tour with Snoop and we had a blast," Berner said. "I'm hands-on with my business, and I really care about every moving part of it. Everyone here is devoted to giving people a good journey. And they're experiencing the way that California medical cannabis was when I started 20 years ago. That is more personal interaction. We're glad to be able to bring that to Arkansas with an excellent partner, Good Day Farms."
The dispensary, which moved its location from a space-limited site on Rodney Parham Road, will offer exclusive Cookies cultivars in cannabis products as well as merchandise like Berner's apparel and skateboards.
"Everyone loves cookies, and it's a good name," Berner told Arkansas Business.
Good Day Farm's chief marketing officer, Laurie Gregory, said in a news release that the dispensary will offer Cookies products along with products from its affiliated Good Day Farm cultivation center in White Hall. "This store is the first of many planned collaborations between Good Day Farm and Cookies across the South, a partner who shares our commitment to helping good people and providing good cannabis."
Good Day Farm is the largest licensed medical cannabis producer in the South, the company says, with state-of-the-art grow operations and research and development facilities in Arkansas, Louisiana and Missouri.
"People have watched me build this from the ground up," Berner said, offering thanks to "good partners like Good Day Farm" who have offered up existing stores to the Berner and Cookies brands. "I've documented every step, so they can go back on YouTube and see when I was making the shirts myself, pulling the strings to the hoodies myself. They can see from the time we didn't have a single store to now, with our having one in Little Rock. I think people like that journey."
Based in San Francisco, Cookies opened its first retail store in 2018 in Los Angeles and has been expanding ever since. Last year, AdAge named Cookies one of America's Hottest Brands; it was the first cannabis brand to ever achieve that accolade, officials said.
Ryan Herget, the Little Rock entrepreneur who co-founded Chef Shuttle before selling the mobile restaurant delivery service to Bite Squad in 2017, will manage the Berner's dispensary for Good Day Farm Retail Management of Little Rock
"Good day is the leading brand in the South; Cookies is one of the best known brands in the entire world at this point, so we're excited to offer their products alongside our Good Day products," Herget said. "We'll carry almost every Good Day product but we'll also carry a wide variety of all the other cultivators' products. We want to be a one stop shop for patients. Regardless of what they want, we've got it."
He said the retail management company works with dispensary owners "to provide them management services and expertise. Then they brand the Good Day name."
He said the company's site on Rodney Parham was "extremely successful, but we just outgrew it." The site only had about 10 parking spaces. "So having this amazing building and this great part of town with multiple more parking spots, it just allows us to offer a better experience."
Crystal Millican, vice president of retail sales for Cookies, said the brand is in Las Vegas, Oregon, Oklahoma, Denver, Michigan, Massachusetts, and Toronto. "Yeah, we're excited about our growth east of the Mississippi and here in Arkansas. These are exciting days."