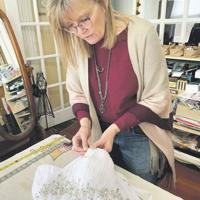 Tracey Humphreys is piecing together something new in Unadilla.
Humphreys, 58, launched Sunshine House Alterations after returning to the area from Cincinnati. But she said her love of sewing spans a lifetime.
"Way back, I had the very good fortune of having two very involved grandparents when I was young," she said. "I learned to love sewing from my paternal grandmother, who lived in Oneonta, so I'm self-taught, with her guidance, and I'd always sewn for friends and family. Then, when I became an adult, I found myself in Cincinnati and was a stay-at-home mom and did it while the kids were young to make a little spending money.
"I became a teacher … and had people inundating me with projects," Humphreys continued, "so I put pencil to paper and realized I could really make it a profession that would compete with my teaching job. I left teaching and opened up an alterations shop in Cincinnati and had so many requests for costumes … that I realized there was not a costume rental business for children in the greater Cincinnati area. I opened up 'Act Like a Kid Costume Shop' and ran that business very successfully."
Humphreys said she sold her business early in the COVID-19 pandemic, returning to her hometown in March and starting Sunshine House Alterations soon after.
"I opened the shop in the front of my house and have been sewing ever since, but really seriously since last summer, starting with some weddings," she said.
Regarding services, Humphreys said, she won't be hemmed in.
"I do everything, from minor upholstery jobs to full-on weddings," she said. "I can't think of the last time I turned somebody away. It's standard alterations, with a highlight to formalwear. Some people who do alterations will not do formalwear, but I welcome weddings, proms and anything that goes along with that but, at the same time, if somebody brought me a tent with a broken zipper, I could put a new zipper in.
"I have five machines, so one will sew saddle leather and one will do very delicate work like a wedding gown," Humphreys continued. "Especially here, versus Cincinnati proper, the variety of sewing is much more. I'm making pouches to accommodate handguns for a gentleman who wants to be able to carry his guns in his vest and, right next to that, is a wedding dress with a full train and bustle. I'm finding, 'Patch my pants because I'm a farmer,' or 'Put a zipper in my Carhartts,' … so it is everything. I also have a really big variety of vintage fabrics, and that would be important to somebody who has heirloom quilts that need to be repaired or patched, and … I make antique lampshades. The more variety, the more interested I am in doing it."
Humphreys said she also offers group sewing classes and sewing-themed birthday parties.
Humphreys, who called her return to the area a "full-circle" moment, said the community and customers have welcomed her.
"It's a wonderful place to have grown up and to return to; my folks and all my dear friends from high school are here," she said. "The only way I've advertised is through friends and word-of-mouth, but everybody has indicated that it's hard to find somebody that does what I do anymore and that my prices are very affordable. People are glad to know they have me as an option."
Humphreys said she lets the craftsmanship speak for itself.
"I have a wall here with pictures that I'm putting together of all the weddings I've done, so people can see some samples, and I have a wall of thank-you cards," she said. "It sounds a little braggy, but it can be hard to follow up on a reference from somebody; you just leap in with good faith and hope somebody isn't going to screw up your wedding dress. It can be scary, so I tell people I have many people on reference and they're usually pretty comfortable. And I have a relatively short turnaround; I don't like to have garments for more than two weeks."
Humphreys said she's hopeful her growing clientele will translate to increased in-town traffic.
"I'm going to try to grow it here in Unadilla," she said. "I've joined the chamber of commerce and am interested in this not just as money for myself or something here at my home where it's convenient, but also as a reason for people to visit Unadilla."
Sunshine House Alterations is open by appointment. For more information, contact Humphreys at 859-322-7606.