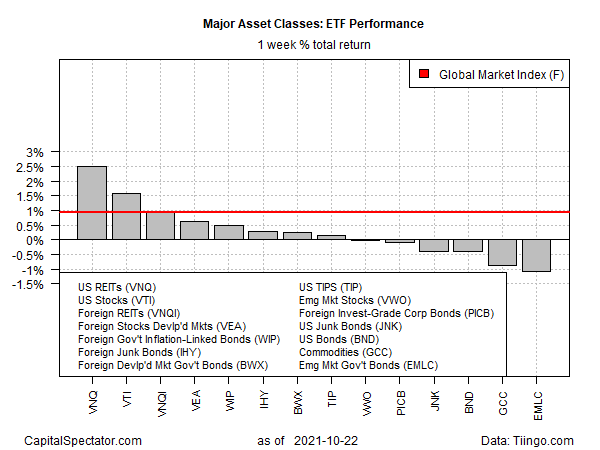 US risk assets refuse to go quietly into the night. Although the recent correction was the longest and steepest since the pandemic recovery began in the spring of 2020, it appears that the latest slide was another bit of noise in an ongoing bull market, based on a set of ETFs through last week's close (Oct. 22).
Leading the rebound last week for the : US real estate investment trusts (REITs). Vanguard Real Estate Index Fund ETF Shares (NYSE:) rallied 2.5%, posting a second straight weekly gain. The pop lifted the fund within shouting distance of a record high, as shown in the weekly chart below.
What's driving REITs higher? Some analysts predict that the pickup in inflation will support firmer earnings for property shares. This outlook is partly based on expectations that property managers can raise rents during periods of higher inflation and pass on the additional earnings to shareholders.
US stocks were last week's second-best performer. Vanguard Total Stock Market Index Fund ETF Shares (NYSE:) rose for a third week, ending on Friday at just slightly below a record high.
Overall, it was a mixed week for the major asset classes. The biggest setback: government bonds in emerging markets. VanEck J.P. Morgan EM Local Currency Bond ETF (NYSE:) resumed its slide, dropping 1.1% for the week. The fund is close to its lowest level since March.
The Global Market Index (GMI.F)—an unmanaged benchmark (maintained by CapitalSpectator.com) that holds all the major asset classes (except cash) in market-value weights via ETF proxies—continued to push higher, rising 0.9% last week and closing in on a record high.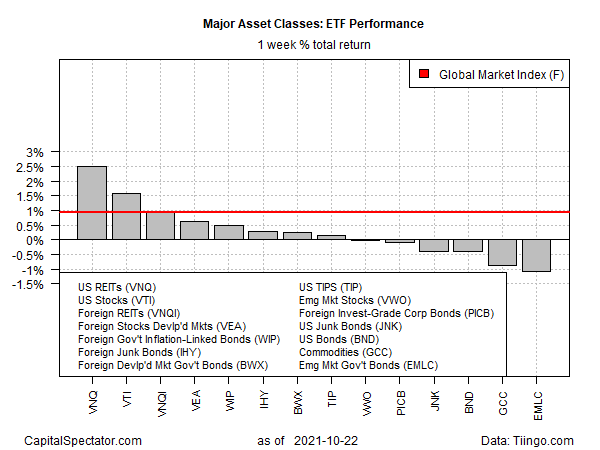 ETF Performance Weekly Total Returns
US REITs are also in the lead for the one-year performance window: VNQ is up a red-hot 41.4% on a total-return basis. US stocks are the second-best one-year performer for the major asset classes: VTI is ahead nearly 35% for the 12 months through Friday's close.
The weakest performer for the trailing one-year window: government bonds in foreign developed markets. SPDR® Bloomberg Barclays International Treasury Bond ETF (NYSE:) is down 4.0% for the past year.
GMI.F's one-year return, on the other hand, is a strong 22.6%, which highlights the continued strength for globally diversified strategies of late.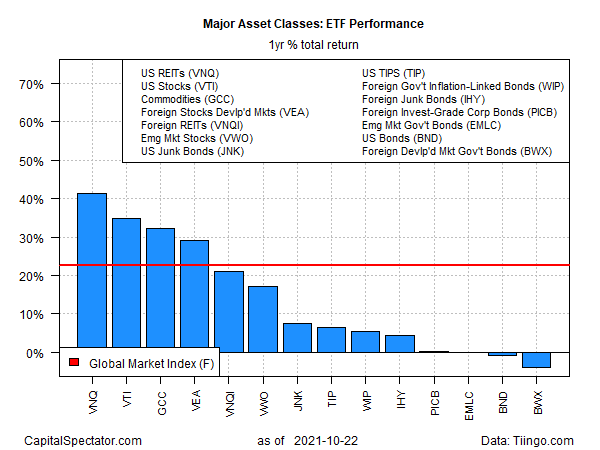 ETF Performance Yearly Total Returns
Most of the major asset classes continue to post low drawdowns. In a sign of the times, US stocks (VTI) ended last week with the smallest peak-to-trough decline: a thin 0.2% below its previous peak.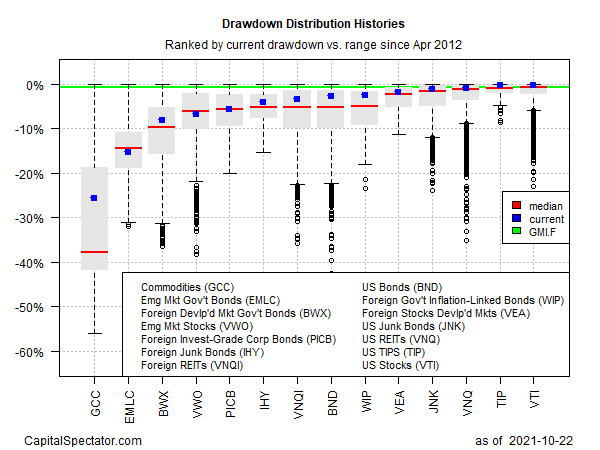 Drawdown Distribution Histories