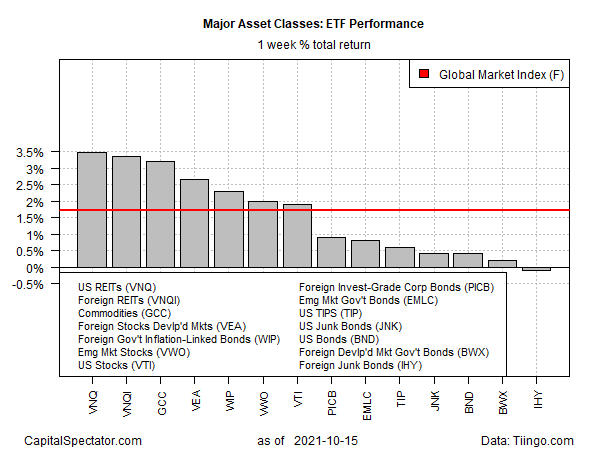 Nearly every slice of the bounced last week, led by strong gains in real estate shares and commodities, based on a set of ETFs through Friday's close (Oct. 15). The only decline was in foreign high-yield bonds.
Vanguard US Real Estate (NYSE:) surged 3.5%, posting its best weekly advance since mid-September. The rally left the fund to just below its highest close since Sep. 17. It's unclear if the latest bounce is a temporary pause in what appears to be modest correction after a long-running uptrend. The week ahead may offer insight into whether the sector is set to stabilize.
Foreign property shares are last week's second-best performer via Vanguard Global ex-U.S. Real Estate Index Fund ETF Shares (NASDAQ:). The ETF's 3.3% gain is the strongest weekly rise in nearly a year.
Commodities extended their rally for a fourth-straight week. Posting a third-place gain last week, WisdomTree Continuous Commodity Index Fund (NYSE:) increased 3.2%.
US stocks posted a solid advance last week too, although the 1.9% rise for Vanguard Total Stock Market Index Fund ETF Shares (NYSE:) was middling relative to the rest of the field.
The only setback on our list: VanEck International High Yield Bond ETF (NYSE:), which ticked down 0.1%. Although the latest decline was fractional, the loss marked the sixth straight weekly decline, suggesting that a strong downside trend prevails for the fund.
The Global Market Index (GMI.F) — an unmanaged benchmark (maintained by CapitalSpectator.com) that holds all the major asset classes (except cash) in market-value weights via ETF proxies — rose for a second week, posting a strong 1.7% increase.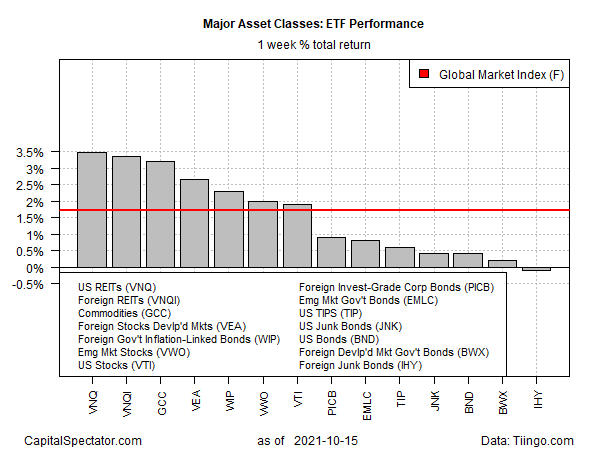 ETF Weekly Total Returns Chart
For the one-year window, US REITs are in the lead for the major asset classes. VNQ is up a sizzling 35.3% on a total-return basis. US stocks (VTI) and commodities (GCC) aren't far behind in second and third place, respectively.
The only one-year declines at the moment: US bonds () and foreign government bonds (), each posting a modest loss at Friday's close vs. the year-earlier level after factoring in distributions.
GMI.F's one-year performance is a strong 21.0% total return.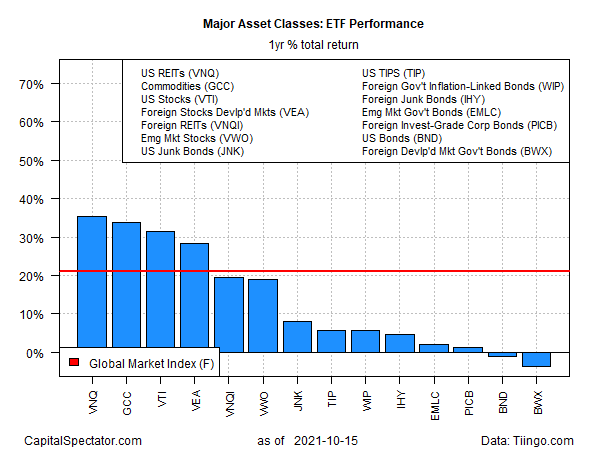 ETF Yearly Total Returns Chart
Most of the major asset classes continue to post low drawdowns. US junk bonds () currently enjoy the smallest peak-to-trough decline – a thin -0.4%. The majority of markets are no deeper than -7%. Commodities and emerging-markets government bonds are the main outliers at -25.1% and -14.4%, respectively.
GMI.F's current drawdown is a mild -1.7% as of last week's close.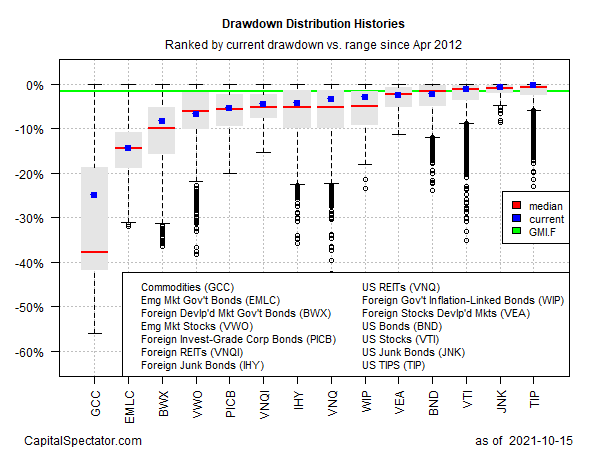 Drawdown Distribution Histories