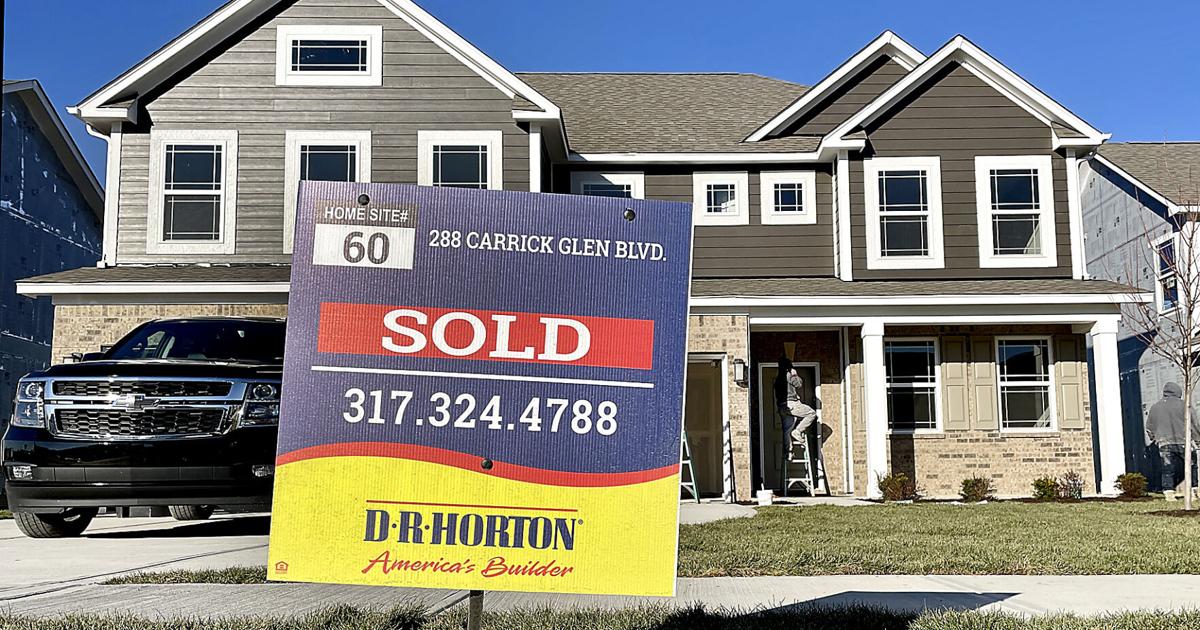 PENDLETON — Along streets in the rapidly developing Carrick Glen subdivision north of town, "Sold" signs are springing up in front of houses that are still unfinished.
Clearing work and utility infrastructure preparations are happening at dozens of other lots in the neighborhood, with one worker on site saying that as many as 200 more homes could be move-in ready by spring.
The new home community off County Road 600 South and Pendleton Avenue is one example in Madison County of the demand that has landed the area on a list of the nation's expected hottest housing markets for 2022.
The forecast by Realtor.com, a leading real estate listings website, ranks the Indianapolis-Carmel-Anderson area fourth among the country's top markets next year. The key metrics used by analysts in formulating the list were expected price growth and sales growth.
"Lower house prices coupled with only modestly lower incomes mean that buyers in the Indianapolis area spend a smaller portion of their monthly paychecks on housing than buyers in other areas do," said Danielle Hale, chief economist at Realtor.com. "With prices of all sorts of goods and services rising, this is an especially useful benefit for today's buyers."
The top three markets in the Realtor.com forecast — Salt Lake City, Boise, Idaho and Spokane, Washington — are all Western mountain locations with plentiful outdoor recreation options. At first glance, the presence of Central Indiana on such a list may seem unusual, but local Realtors point to several factors that have made the region desirable for homebuyers.
"There certainly is a place for the wonderful outdoor amenities offered in the mountain areas, but not everyone is interested in that," said Susie Edwards, a real estate agent with Berkshire Hathaway Home Services. "I think that more people than ever before are choosing to move outside of the bigger cities. Anderson is close to Indianapolis, but just far enough way that they get that smaller town feel."
With the rise of remote work during the pandemic, younger professionals are feeling less confined when it comes to considering a location to establish themselves on a long-term basis. Those changing attitudes, however, often still yield to one box that many buyers still want to check.
"It comes back to affordability," said Heather Upton, owner of Real Estate Pros of Keller Williams in Pendleton. "When you look at what you can buy here versus what you can buy on the West Coast, I mean, it's a no-brainer for a lot of people."
Upton mentioned a recent home for sale in Middletown, a four-bedroom Victorian that listed for $289,000. A member of her staff fielded a call from a prospective buyer in California who wanted to make an offer on it sight unseen. The buyer, Upton said, commented that a similar house might sell in his area for more than $1 million.
"We get a fair amount of out-of-state and out-of-town buyers always," Upton said. "But lately (buyers) are even trying to see if we have any pocket listings. Is there anything that's not on the market that we can buy?"
COVID has also brought other factors into play for families, Upton noted. She mentioned "pandemic babies" and "pandemic divorces" as examples of changing family dynamics that necessitate a change in scenery.
"They're outgrowing their homes now, or they're going 'Splitsville,' and now we need two houses," she said. "It definitely has, I think, intensified the market and put an even tighter crunch on the inventory, for sure."
Hale added that in general, Central Indiana is holding up well when it comes to meeting the demand for new home construction, which is another reason to believe the area's status as a hot housing market may last for a while.
"The market has done a good job of keeping up with construction, which has helped maintain the housing affordability that the area enjoys," Hale said. "Even as we expect prices to rise, we also expect construction to keep pace with household growth better than it has done in other parts of the country, which will keep the cost of housing from becoming too disconnected from incomes."
Follow Andy Knight on Twitter
@Andrew_J_Knight, or call 765-640-4809.