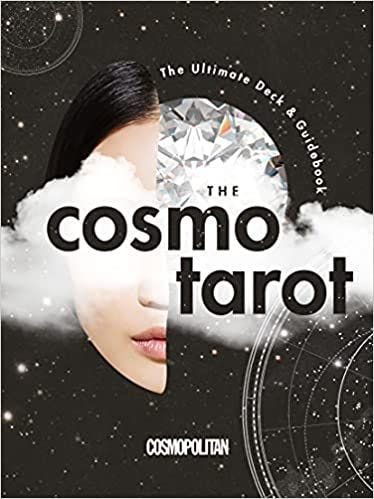 You don't need to know the difference between a three-card and a Celtic cross spread to get the most out of a tarot card reading. All you need: Your Sun sign! Here's what I do: Shuffle my tarot deck and pull out the cards in order from Aries to Pisces plus one general card for everyone so that you can get specific advice around your personality. Let's go!
A GENERAL CARD FOR EVERYONE: EIGHT OF SWORDS
Sometimes the only person getting in the way of your own progress is YOU. The Eight of Swords is a signal for everyone to pause, reflect on an issue in your life, and figure out if the barrier is external…or internal. We all project our fears outwards, onto the world or other people. We all overthink things and imagine the worst. But what if you could remove that negative, self-inflicted influence? How much more would you be willing to try, if you believed in yourself fully? Try it this week. Become your own coach, not critic. The results could be ah-mazing.
ARIES: QUEEN OF PENTACLES
It's time to get your material world organized, Aries, and that means home, health, work, and money are all under the spotlight. The Queen of Pentacles suggests you should identify your friends, colleagues, or family members who seem to have expertise in any of these areas, and ask them for some advice. Find someone in the know to give you a few pointers and then put them in practice this week. Make a few improvements, and you'll feel in control.
TAURUS: THREE OF COINS
Are you ready for promotion? If so, then this is a great week to ask for one. The Three of Coins shows that you're valued and appreciated, and people with influence are in a position to give you more. Make yourself visible and irresistible to those who can help. Be bold about expressing your ambitions. Take on more responsibility. Seek greater rewards. The sky's the limit for you right now, Taurus, so go get yours!
GEMINI: KNIGHT OF CUPS
Romantic vibes in the air, Gemmy, because the Knight of Cups is the tarot's Cupid. Someone loving, charming, exciting, and fun is around you, and they want to get to know you better. If you're single, keep an eye out for a water sign (Pisces, Cancer, or Scorpio) around your age who is very creative and social. If you're attached, then this is the week to organize a surprise, imaginative date night for your other half. Go all-out and show them how you feel! Prepare to give and receive love.
CANCER: PAGE OF CUPS
Looking for a new hobby? Fall often makes us rethink how we spend our free time as the nights darken, the weather cools, and we want something cozy and relaxing to do. The Page of Cups asks you to revisit your childhood and remember the activities that you spent many happy hours doing—things that felt creative, wholesome, absorbing, and fun. There is more than likely an "adult version" of your childhood hobby around that you could get into this week. There's no time like the present.
LEO: THE MAGICIAN
The tarot's entrepreneurial card visits you this week, Leo, with its creative, innovative, and imaginative vibes. The Magician means you're in the mood to make or create something new—maybe even to monetize it and start a whole new side gig. You're a great salesperson, a savvy entrepreneur, and a charismatic collaborator. Take what you have and sharpen it up, test it, review it, adapt it…and start your new endeavor with confidence and optimism. This could be ~it~.
VIRGO: FIVE OF SWORDS
Conflict is a tricky area for you, Virgo, because on the one hand, you don't like harsh words and tense atmospheres. But on the other hand, you can't let irritation or sloppiness go. You feel duty-bound to point out and correct bad behavior. Well, the Five of Swords sees you in the thick of it this week. Don't worry, it will all pass by soon enough. But for now, be ready to say your piece. Try to keep it rational and impersonal, and then withdraw. Don't get too deep here.
LIBRA: ACE OF SWORDS
Truth: It's a concept you're fascinated by, and sometimes personally challenged by. You are all for fairness and justice, and that inevitably means getting to the truth of things. But you also lean towards diplomacy, tact, and charm, and that inevitably means glossing over some things. This week, the Ace of Swords asks you to be fully honest—even brutally honest. Don't sugar-coat anything. An important conversation needs to happen.
SCORPIO: THE HIEROPHANT
You have a powerful presence and can move mountains when you set your mind to it. This week, the Hierophant asks you to get involved with something charitable, ethical, or worthwhile. Contribute to a cause. It could be related to family, community, justice, social issues, a vulnerable group, or a crisis. You have the strength, persuasive powers, confidence, and brains to make a difference. Invest your energy in something you believe in.
SAGITTARIUS: FIVE OF WANDS
Have you been putting your foot in your mouth again, Sag? I know you never mean to cause offense, but sometimes your bluntness gets you into hot water. The Five of Wands hints that it's happened again. You must think before you speak. Don't let this get out of proportion. Make your apologies, be sincere, and give them so space. Luckily, you're so GD adorable that you can be forgiven for almost anything.
CAPRICORN: KING OF WANDS
Travel, education, side gigs, and lifestyle improvements—these are all areas to look at this week. You're getting ready to make a bold new plan for personal progression and development. Cap, you're a machine when it comes to self-improvement. The King of Wands brings you the insight, inspiration, and determination to go for something motivating and challenging, something that will make a positive impact on your life. Dream big and make a plan.
AQUARIUS: FOUR OF SWORDS
You're a high-energy kind of person, Aquarius. You like to be on the move, and you're always working on something or other. The Four of Swords asks you to take a break this week, though, because your energy levels are depleting, and you need to recharge. Don't worry about FOMO. Everything will be just as you left it when you return from your self-imposed mental vacay. Take a step back this week and seek some solo relaxation. You will feel so much better when you return.
PISCES: EIGHT OF WANDS
I don't think you realize just how popular you are, Pisces, but expect evidence of that truth to emerge this week. That's right: You're going to be in demand. The Eight of Wands is a busy card, representing a spike in communication, information, invitations, and opportunity. You're in the midst of a whirlwind of social activity, and everyone wants you at their party/dinner/side this week. Say "yes" to as much as you can. Why not? People want to spend time with you, so let them!
This content is created and maintained by a third party, and imported onto this page to help users provide their email addresses. You may be able to find more information about this and similar content at piano.io