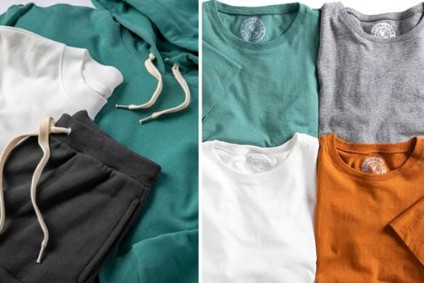 Each item in the Second Spin circular knits collection features a scannable QR code to share key circularity data with consumers
US lifestyle brand Outerknown has launched its first circular collection in which each piece features a scannable QR code to share key circularity data with consumers and open up circular end-of-life channels.
The Second Spin collection comprises men's and women's knits made from high-quality recycled cotton from textile waste.
To raise the bar for transparency and traceability, each piece in the line is digitised with Internet of Things platform EON's Product Cloud Platform and CircularID Protocol. When consumers scan the QR code on the garment, they have full access to the product's journey: who made it, where it was made, all material inputs, how to care for it, and eventually, resale or recycling recommendations for next-life.
By using CircularID Protocol to give products digital identities, Outerknown says it is creating a foundation to scale circular business model transformation for the brand and industry at large. Products can be digitally identified and managed through future resale, rental, and sharing programmes, and materials can be identified for recycling and regeneration, it explains.
The company is currently working to digitise a range of its products on the EON Platform with the CircularID Protocol.
"We want to keep our products out of the landfill and in circulation, forever," says Megan Stoneburner, Outerknown's director of sustainability and sourcing. "This collection is another step in the right direction as we move towards our goal of becoming fully circular by 2030."
As part of the work to achieve its target, Outerknown has been actively converting its product lines to adopt circular models: increasingly leveraging regenerative and recycled materials, designing out waste and pollution, and ensuring products have viable end-of-life channels.
The Second Spin collection, composed of men's and women's tees, shirts, sweatshirts, and sweatpants, is Outerknown's most recent advancement in reimagining its line of knits, following the announcement of its New Denim Project collection in February. Second Spin pieces are produced through a vertical, one-street supply chain in Morocco at Hallotex, which invented the technology to create high-quality recycled cotton fibres from textile waste, Outerknown says.
Hallotex leverages post-industrial scraps and garments to spin high-quality recycled cotton yarns with organic cotton. Typically, when cotton is recycled, the chopping-up process lowers the cotton's quality because it shortens the staple length of the fibres.
By taking factory scraps and eventually old clothes for a "second spin," Outerknown protects natural resources, reduces pollution, and keeps valuable materials in circulation. Pieces from the Second Spin collection are made of 14-40% recycled cotton or Refibra Lyocell (recycled cotton blended with FSC-certified, sustainably harvested wood), with the difference of organic cotton.