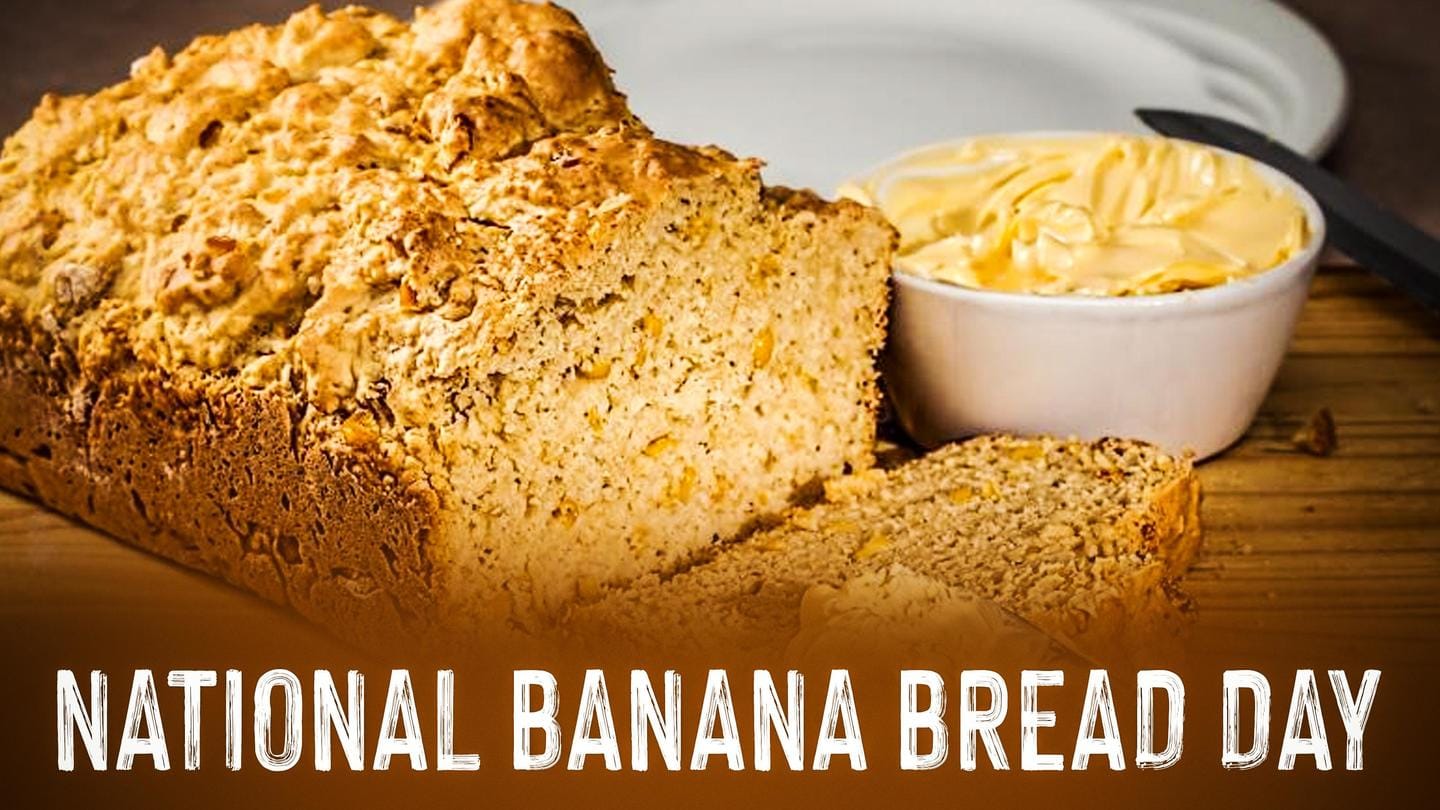 National Banana Bread Day: History, celebration, recipe and more
Feb 23, 2022, 01:45 pm
3 min read
Did you know that February 23 is celebrated as a food holiday, popularly known as National Banana Bread Day in the US?

Sounds interesting right! Well, this day gives you the perfect opportunity to bake some sweet and moist banana bread using fresh ripe bananas.

A slice of banana bread almost looks like a cake slice and goes best with some tea or coffee.

Bananas are believed to be the world's first cultivated fruit and were domesticated in 8000 BC by the population in Southeast Asia.

Following this, the fruit moved to the West in 327 BC through Alexander the Great. In 1870, bananas made their first appearance in the United States of America.

Americans took several decades to realize the potential uses of bananas other than fruit.

The first known banana bread recipe
The first-ever banana bread recipe was published in the 1893-edition of St. Louis Post-Dispatch by The Vienna Model Bakery who were supposedly the first to prepare banana bread in the US.

Banana bread became hugely popular in the 1930s due to the growing sale of baking powder and baking soda.

The recipe used banana flour made by drying banana strips and grinding them.

When did alternative uses of bananas begin?
Bananas weren't as popular for alternate use until World War I.

The fruit started piling up in Hawaii, but there was a shortage of ships to export it.

So people started using it in different ways. This is when bakers also got innovative and made bread out of it.

Also, since the regular flour was heavily rationed, people started turning to banana flour.

The modern banana bread recipe
In February 1918, a banana muffin recipe was published in The Garden Island paper. It was submitted by a "Mrs. Dean." This recipe is extremely similar to the banana bread recipe used today.

Later, recipes using overripe bananas became popular during the 1930s Great Depression period in the United States.

In 1950, a recipe with overripe bananas was popularized by Chiquita Banana's Recipe Book.

How can you celebrate National Banana Bread Day
The perfect way to enjoy National Banana Bread Day is to bake some at home or pick up delicious banana bread from your nearby bakery.

Invite over your friends and indulge in some yummy banana bread.

Gifting it to neighbors is also a nice option.

Experiment and discover new recipes using different ingredients that go with bananas, such as coconut, chocolate, cinnamon, and more.

How to make banana bread at home?
This banana bread recipe infused with fresh ripe bananas will make your day sweeter.

Preheat the oven to 325 degrees. Mix mashed ripe bananas with egg, butter, and sugar in a bowl.

Add flour, baking soda, and salt to the banana mix and combine everything well.

Pour the batter into a greased loaf pan and bake for an hour. Your banana bread is ready.