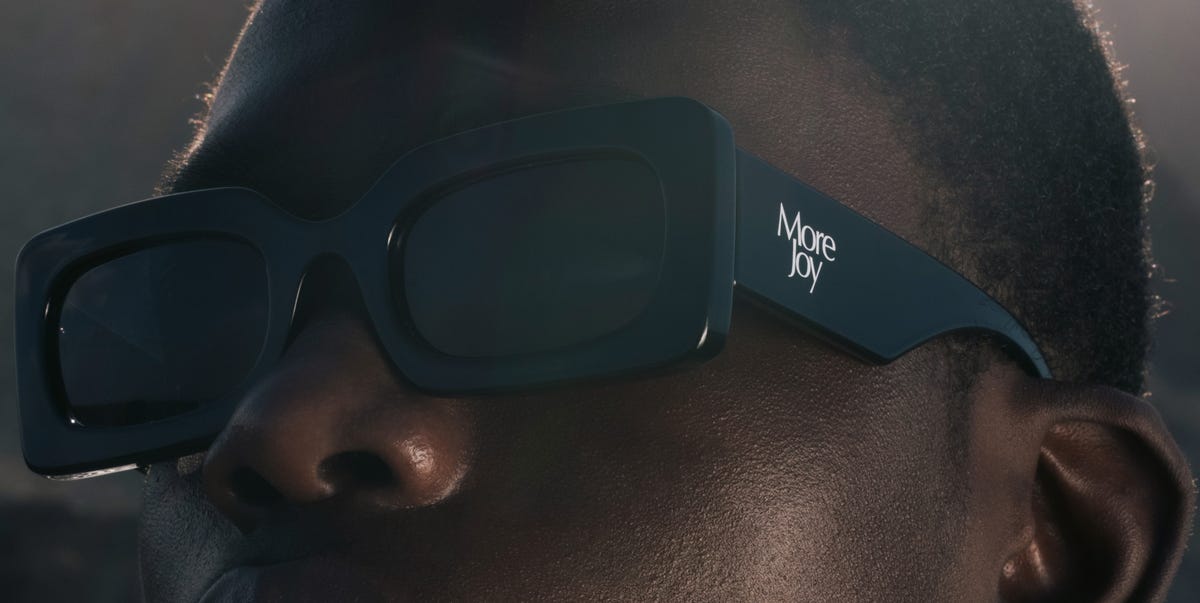 The weather is slowly but surely heating up, and spring fashion is following suit. From Burberry's newest bag launch to Fendi's trippy collaboration with Sarah Coleman, watch this space for the month's newest and most anticipated fashion collaborations, launches, and products.
Saint Laurent Debuts Collaboration with Memphis
Who: Saint Laurent
What: Collaboration with Memphis
Where: Available now online and at YSL Stores worldwide.
Why: Anthony Vaccarello, creative director at Saint Laurent, has teamed up with Memphis Milano to create an assortment of homeware pieces, ceramic objects, and textile accessories. The collaboration will also include an exclusive capsule for Saint Laurent consisting of two hoodies, two dresses, one shirt, and two pairs of sneakers. There will be an exhibition to debut the electric collaboration held in both Saint Laurent Rive Droite stores in Paris and Los Angeles from May 19 to June 23. A selection of rare books representing the history and works of Memphis Milano will also be accompanying the collection in stores.
SHOP NOW
Tom Ford Plastic Innovation Prize Announces Panel of Judges
Who: Tom Ford
What: Tom Ford Plastic Innovation Prize panel of judges
Where: Submissions accepted now thru October 24, 2021 at www.plasticprize.org
Why: Tom Ford and 52HZ have teamed up to take on the world's ever increasing waste management issue, with the Tom Ford Plastic Innovation Prize. Together, they're calling upon inventors and entrepreneurs to rethink how thin-film plastic is created. Responsible for 46% of all ocean plastic leakage, thin-film plastic in the ocean is expected to reach 29 million metric tons by the year 2040. Knowing that the fashion industry is one of the most polluting on earth, Ford & 52HZ hope to accelerate meaningful innovation around a replacement for this polluting material. But they're not doing it alone. Joining the force is a powerful group of investors, major brands, and other partners who will offer their support to help Prize finalists reach scale & market adoptions by 2025 (a crucial marker year). Mentors will include Stella McCartney, Don Cheadle, Susan Rockefeller – to name just a few. Submissions are open now through October 24, 2021.
LEARN MORE

More Joy Launches First Le Specs Collaboration
Who: More Joy
What: Sunglasses collaboration with Le Specs
Where: Available in-store and online May 20th
Why: Christopher Kane's More Joy line is inspired by just that: a line that inspires joy, hope, and optimism that go beyond a label or item. They have brought their classic logo and happy-go-lucky attitude to their first eyewear line with Le Specs. They have reworked two classic Le Specs silhouettes with three bold colors and the More Joy wording on the temples. These positive affirmations (More Joy, Sex, Special) will brighten the wearer's day, while of course providing shade from the sun all day long.
SHOP NOW
CUUP Ventures Into Swimwear
Who: CUUP
What: Swimwear collection debut
Where: Available online at shopcuup.com
Why: CUUP has been formulating their swim debut for over 2 years, making sure their signature coverage and hold were carried through into this seamless six-piece collection. The brand saw their customers on social media wearing their beloved underwire bras to the beach and knew they had to provide the same support in their swim styles. This simple range offers vintage-inspired silhouettes with modern fabric and classic colors that will never go out of style. The campaign features faces that are close to the brand; Camille Rowe is pictured here wearing the Balconette Bra and The Highwaist Swim. Their signature size range carries over into swim, with sizes range 30A – 42F for bikini tops and XS – XXXL for bottoms.
SHOP NOW
Self-Portrait Launches Kidswear
Who: Self-Portrait
What: Kidswear collection
Where: Available in the Self-Portrait boutique in London, online and in select global boutiques.
Why: Self-Portrait, known for their delicately feminine yet strong designs featuring eyelets and lace, is looking to dress the whole family now. Launching in 21 adorable styles for kids ages 3 to 12, the dresses are equal parts whimsy and beauty and are sure to inspire fun in any age. Self-Portrait will now launch two childrenswear collections annually. Get a similar style and match with your mini me all summer long!
SHOP NOW
Burberry Debuts Olympia Bag Campaign
Who: Burberry
What: Olympia bag campaign
Where: Now available to purchase globally in Burberry stores and online.
Why: Launching today is Riccardo Tisci's Olympia handbag for Burberry, a sleek, modular, and timeless design. It comes in multiple sizes and colors, including this smooth leather option featured on artist Shygirl. Tisci tapped Inez and Vinoodh to shoot the campaign, and Ib Kamara styled Kendall Jenner, FKA Twigs, and Shygirl in simple yet very strong images that celebrate each woman's uniqueness and fierceness. Snatch this delectable half-moon bag for the perfect summer accompaniment to every look.
SHOP NOW
Ferragamo Releases Tuscan Wildflower Collection
Who: Salvatore Ferragamo
What: Tuscan Wildflower collection
Where: Available in Ferragamo boutiques and on ferragamo.com
Why: Ferragamo is celebrating spring's new beginnings in style by launching their Tuscan Wildflower collection, using the surroundings of Florence's wildflower fields as inspiration for the organic and refreshing bloom prints. The Ferragamo Studio Bag is reimagined for several key cities globally, and each shoulder strap is customized based on the city of purchase. In order to further the organic and artistic nature of the collection, Ferragamo tapped six different visual artists from around the world to bring its digital campaign to life. The result is Ferragamo's "travel diary," focused on multiple perspectives on the same pieces, available for viewing now on Ferragamo.com and their respective social channels.
SHOP NOW
Tamara Mellon Releases Capsule With D'Ascoli
Who: Tamara Mellon
What: Capsule collection with D'Ascoli
Where: Online at TamaraMellon.com
Why: Shoewear designer Tamara Mellon has partnered with Indian based brand D'Ascoli, which uses 100% silk fabrics that are one-of-a-kind and sustainable. The collection offers flats and heels in deep burgundies, tans, and sand colors, and the silk wrap around the heel offers a breezy and summer-ready alternative to a heel strap. 10% of the proceeds from the capsule collaboration will go towards CITTA, which works to help develop critically challenged parts of the world. The proceeds will provide direct COVID-19 relief in rural hospitals in the Odisha and Nepal region, which serves over 200,000 villagers.
SHOP NOW
Harry Winston Releases 'Winston with LOVE'
Who: Harry Winston
What: Winston with LOVE High Jewelry line
Where: Online at harrywinston.com
Why: Harry Winston has created a High Jewelry collection for true lovers, embracing the emotions that come with love. The collection is divided into four categories, creating an acrostic for LOVE: L – Winston Light; O – Winston Obsession; V- Winston Vow; and E – Winston Eternity. The 39 piece collection is entirely handmade and features a stunning array of colored stones, which are arranged in beautiful floral and heart-shaped motifs that capture the essence of romance.
VIEW NOW
L'Atelier Nawbar Launches Jewelry Customizer
Who: L'Atelier Nawbar
What: Jewelry customizer
Where: Online at lateliernawbar.com
Why: L'Atelier Nawbar is bringing 3D personalization to your jewelry shopping experience. In honor of their 10th anniversary, the brand is bringing their signature customization to life on your home screen. Customers can choose which jewelry type they'd like to customize, and from there are able to change the stone colors and combinations. The co-founders of the brand wanted to bring the customer even further into the collaborative process and this is a fun way for the customer to feel like they've have a hand in making their dream piece come to life!
SHOP NOW
FENDI Launches FF Vertigo Capsule in Collaboration with Sarah Coleman
Who: Fendi
What: FF Vertigo Capsule in collaboration with Sarah Coleman
Where: Available at fendi.com
Why: Fendi enlisted New York-based artist Sarah Coleman late last year to deconstruct and reconfigure the design of their Miami Design District store, resulting in collaged furniture and wavy configurations of the FF logo on small leather goods. After the success of their first run, Fendi has invited Coleman back to create a capsule collection for summer 2021, infused with happy-go-lucky retro colors which complement her warped FF logo design. The line ranges across men, women, and kids RTW, footwear, accessories, and unique pieces such as a paddle board and a Polaroid camera.
SHOP NOW
Alison Lou Debuts LoveShackFancy Collaboration
Who: Alison Lou
What: Collaboration with LoveShackFancy
Where: Available in on AlisonLou.com, the brand's shoppable showroom in NYC's UES and the jewel box of a shop located in East Hampton, NY
Why: Jewelry designer Alison Chemla of Alison Lou has partnered with casual lifestyle brand LoveShackFancy for the perfect accessories to up your ear game this summer. Both brands celebrate the fun, femininity, and vibrancy of getting dressed, so this collab was a no-brainer. The fresh and floral patterns that LSF is known for find a perfect home in Chemla's signature "Loucite" hoops, offering a fresh and unexpected take on the hoop earring that are sure to carry over beyond seasons and trends.
SHOP NOW
Fivestory Opens Southampton Outpost
Who: Fivestory
What: Southampton store opening
Where: 38 Jobs Lane , Southampton, NY
Why: Luxury boutique and Upper East Side shopping staple Fivestory has come under new ownership, and they are heading to the beach this summer! New owner Karen Murray has chosen Southampton as the second destination for the curated luxury selection of RTW, accessories, and homegoods Fivestory fans have come to know. Brands such as Dauphinette, Muse x Muse charms, Le Sirenuse Clothing, Lug Von Siga dresses, Bathseva, and even a curated selection of "pre-loved" items are all available. Stop in after a day at the beach and shop your summer wardrobe, head-to-toe.
VISIT
Photographer Claiborne Swanson Frank Releases Series of Floral Portraits
Who: Claiborne Swanson Frank
What: Release of Flowers, a series of floral portraits
Where: Available in a variety of sizes from May 13th on claiborneswansonfrank.com, Moda Operandi, and Chairish.
Why: Known for her portraits, often of mothers and their children, Claiborne Swanson Frank found inspiration in nature during last year's lockdown at her Greenwich, Connecticut home. Having moved in just six months prior, she was thrilled to finally have a garden, though the blooms featured were sourced from all over the area (even the local Whole Foods!). The dynamic shots capture the uniqueness of each flower as Frank approached the new subject as she would her portraits of women. Also making an appearance: her young son, Hunter, whose hands are pictured holding many of the blooms and "reminding us of the powerful relationship of humanity and our connection to the natural world."
SHOP NOW
Ralph Lauren Launches New Partnership with MLB
Who: Ralph Lauren
What: Partnership with Major League Baseball
Where: Available at specialty stores globally, Macy's, Bloomingdales, the MLB™ Flagship Store (NYC), select MLB™ Club stadium shops, and select Ralph Lauren stores globally, as well as on RalphLauren.com, MLBShop.com, and The Polo App.
Why: American icon Ralph Lauren is joining forces with another American institution, Major League Baseball, for an exciting new partnership. This special collaboration is coming in three pieces and will start with a collection honoring a handful of MLB teams: the Yankees, Dodgers, Cubs, and Cardinals. Ralph Lauren infused his signature Americana colors and silhouettes into shirts, satin varsity jackets, and caps in new colorways. The RL Airstream will be going cross-country this summer to celebrate the new collection at baseball stadiums, and two more collections will follow this first launch.
SHOP NOW
Prada Debuts May 2021 Organic Denim Collection
Who: Prada
What: May 2021 Organic Denim Collection
Where: Online at Prada.com and in Prada boutiques worldwide
Why: Prada is releasing their May 2021 Organic Denim Collection, marking a purposeful shift toward sustainable dressing for the brand. Prada's denim fabric is made of 100% Global Organic Textile Standard (GOTS) certified organic cotton, made with less water and less energy to ensure that each piece was made with as little as needed, without sacrificing quality. This low-impact denim transforms into shirts, jeans, and a chic bra top that speak to Prada's core customer.
SHOP NOW
Harley Viera-Newton Collaborates with Ancient Greek Sandals
Who: Harley Viera-Newton
What: Collection with Ancient Greek Sandals
Where: Online at ancientgreeksandals.com and select global partners including MatchesFashion
Why: Harley teamed with Ancient Greek Sandals creative director Christina Martini to create a joy-filled capsule of seven different designs. Heart-shaped buckles and vibrant colors bring much-needed optimism to sandals that are perfect for the beach, pool, and those humid city days. HVN also brings her signature heart patterns from her namesake line to this collaboration.
SHOP NOW
Mother Launches 'MOVE IT' MovementWear Collection
Who: Mother Denim
What: 'MOVE IT' MovementWear collection
Where: Exclusively online at motherdenim.com
Why: Casual activewear is slowly but surely taking over, and editor-favorite Mother Denim is releasing their first MovementWear line, offering their take on relaxed classics. Heavyweight sweatshirts and sweatpants come in muted tones and MovementWear tops and leggings will ensure you break a sweat in style. The collection comes in an amazing baby blue (my pick) with exaggerated ties in bright orange that provide a stylish, finishing touch. Prices range from $95-188 and are sold as separates to mix and match as you please.
SHOP NOW
Aries Launches Collab with Lee Jeans
Who: Aries
What: Collaboration with Lee Jeans
Where: Available today at www.ariesarise.com and select global partners including Net-A-Porter
Why: Streetwear brand Aries has joined forces with cult denim brand Lee to create a capsule collection that honors the workwear that both brands have riffed on for years. Aries reworked the classic Rider jeans and 191-1 jacket with playful prints, bringing a punk British spin to classic American staples. Cult Italian street photographer Roberto Timperi shot the campaign on the street, demonstrating the way the collection comes to life.
SHOP NOW
Ray-Ban Releases Limited Edition 70s Archive Designs
Who: Ray-Ban
What: Release of 70s archive designs
Where: Available for a limited time only in select Ray-Ban stores, Ray-Ban.com and Ray Instagram Shop starting May 3rd for $191
Why: If you've been waiting with bated breath for the new Halston show, or are catching up on The Serpent on Netflix, you've no doubt been inspired by the eyewear on both shows. Ray-Ban is re-releasing two frames from their iconic 70s archive, the Vagabond (pictured here) and the State-Side. The frames feature the original Havana Acetate and Ambermatic yellow lenses, so you can live out your American Hustle fantasy all summer long.
SHOP NOW

This content is created and maintained by a third party, and imported onto this page to help users provide their email addresses. You may be able to find more information about this and similar content at piano.io