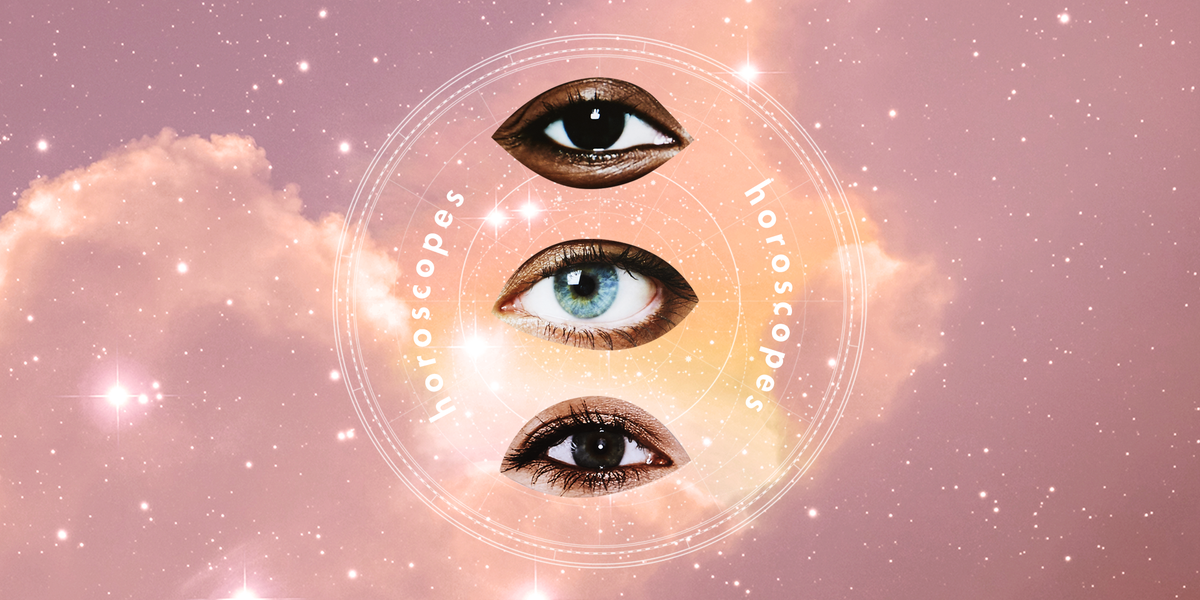 Add These Dates to Your GCal:
March 2: New Moon in Pisces
March 5: Venus and Mars enter Aquarius
March 18: Full Moon in Virgo
March 20: Sun enters Aries / Spring Equinox
March 31: New Moon in Aries
---
Welcome to March, you celestial angels. It's going to be a busy month! We're currently in the midst of Pisces season, swimming through our emotions and focusing on compassion and forgiveness. The mood is creative, spiritual, and whimsical. March's astrology starts off with a decadent New Moon in Pisces on March 2, forming a strong connection with Jupiter, the planet of luck and opportunity. This is the time to manifest! Don't be afraid to expect miracles and chase your dreams.
The following day on March 3, Venus and Mars meet up directly with Pluto in Capricorn. Pluto delivers intensity, transformation, and unshakable shifts in our lives, while Venus and Mars lend energies that may have us acting out some of our shadow sides. Repressed pain can bubble to the surface now, especially when it comes to relationships. Watch out for unbalanced power dynamics.
There is a palpable energetic shift as Venus, the planet of love and finances, and Mars, the planet of pursuit and motivation, both enter Aquarius on March 5. Right now, we are welcoming innovating and craving social stimulation. Right after they enter Aquarius, Venus and Mars form a close conjunction on March 6, kicking off a fresh cycle in love and creative pursuits. How can your relationships benefit from breaking away from your usual patterns and routines? You're yearning to venture into uncharted territory.
On March 9, Mercury, the communication planet, sashays into the empathetic sign of Pisces. You may be more inclined to speak from the heart now, but be mindful of expecting others to just *know* what you're thinking. A few days later on March 13, we all experience a spiritual download as the Sun and Neptune, the planet of spirituality and illusion, have their yearly meetup. Neptune's influence can activate your intuition, but can also add a dash of lethargy to your day. Take time to rest.
On March 18, the Full Moon in Virgo asks us to reflect deeper on boundaries and our daily routine. Full Moons mark periods of endings so we can make space for more aligned opportunities. Those could be coming soon, because on March 19, Venus in Aquarius forms a tense conversation with Uranus in Taurus. We're eager to break free from structures and relationship patterns that feel limiting.
The Sun enters Aries on March 20, which coincides with the Spring Equinox. Aries season and the astrological new year are here! If your New Year's resolutions didn't stick, here's your second chance to get it right. On March 22, Mars, the planet of drive and anger, forms an uncomfortable conversation with Uranus, the planet of sudden events and breakthroughs. We're eager to defy authority figures, act impetuously, and break free. Unstable energy today can lead to confrontations, so be mindful of your words.
Mercury, the planet of the mind, enters bold and direct Aries on March 27, so you're more prone to word vomiting. Think before you speak, if you can, and don't lie! On March 28, Venus, the planet of love, meets restrictive Saturn in Aquarius. This is a relationship test. Did you and your partner pass?
Finally, this jam-packed month wraps up on March 31 with a New Moon in Aries. This dynamic energy emboldens us to chase after our desires full-heartedly. New beginnings are just around the corner.
Read on for your Sun, Moon, and Rising horoscopes:
ARIES
TAURUS
GEMINI
CANCER
LEO
VIRGO
LIBRA
SCORPIO
SAGITTARIUS
CAPRICORN
AQUARIUS
PISCES
This content is created and maintained by a third party, and imported onto this page to help users provide their email addresses. You may be able to find more information about this and similar content at piano.io