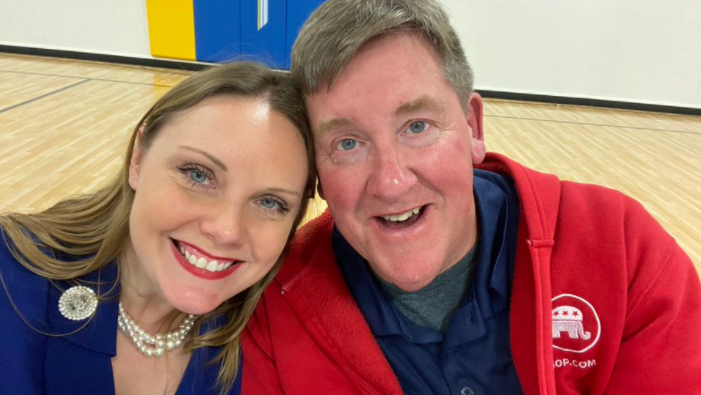 The husband of a Missouri state representative has died after a battle with COVID-19. Rep. Sara Walsh (R – Ashland) tweeted Thursday morning that her husband, Steve Walsh, has died after the couple was diagnosed with COVID-19 earlier this month. "It saddens my heart to share that this morning my best friend and beloved husband Steve Walsh was welcomed to Heaven's glory into the arms of Jesus Christ his Lord and Savior," Sara Walsh tweeted.Walsh had previously said that Steve was "very sick and in the hospital" while she was recovering at home. An update earlier this week said Steve was passed the virus and still recovering in the hospital. Steve Walsh, a former journalist, was serving as the press secretary for U.S. Rep. Vicky Hartzler.The couple was not vaccinated against COVID-19. Rep. Walsh previously told KRCG that while she couldn't speak for her husband, she chose not to get a COVID-19 vaccination because vaccines were not approved by the FDA and she was concerned about risk factors. Walsh also said she believes COVID-19 vaccinations are a personal choice and that she never wanted to get a vaccination after never contracting the virus for more than a year.Sara Walsh is running for Vicky Hartzler's 4th District congressional seat. Steve Walsh was 63. Statement from Rep. Hartzler:"I am saddened at the loss of Steve Walsh, who served my office and Missouri's Fourth District admirably for the past decade. Since day one, Steve has been a key member of my team, serving previously as Press Secretary before his current role as Field Representative. We loved Steve for his enormous heart, passion for life, and the joy he brought to everyone who was lucky enough to meet him. His love of God and his beautiful wife, Sara, was undeniable.Steve will be sorely missed, but his memory will live on with those who were blessed to know him.I ask that the Walsh family be given privacy during this difficult time."
JEFFERSON CITY, Mo. —
The husband of a Missouri state representative has died after a battle with COVID-19.
Rep. Sara Walsh (R – Ashland) tweeted Thursday morning that her husband, Steve Walsh, has died after the couple was diagnosed with COVID-19 earlier this month.
This content is imported from Twitter.
You may be able to find the same content in another format, or you may be able to find more information, at their web site.
"It saddens my heart to share that this morning my best friend and beloved husband Steve Walsh was welcomed to Heaven's glory into the arms of Jesus Christ his Lord and Savior," Sara Walsh tweeted.
Walsh had previously said that Steve was "very sick and in the hospital" while she was recovering at home. An update earlier this week said Steve was passed the virus and still recovering in the hospital.
Steve Walsh, a former journalist, was serving as the press secretary for U.S. Rep. Vicky Hartzler.
The couple was not vaccinated against COVID-19. Rep. Walsh previously told KRCG that while she couldn't speak for her husband, she chose not to get a COVID-19 vaccination because vaccines were not approved by the FDA and she was concerned about risk factors. Walsh also said she believes COVID-19 vaccinations are a personal choice and that she never wanted to get a vaccination after never contracting the virus for more than a year.
Sara Walsh is running for Vicky Hartzler's 4th District congressional seat.
Steve Walsh was 63.
Statement from Rep. Hartzler:
"I am saddened at the loss of Steve Walsh, who served my office and Missouri's Fourth District admirably for the past decade. Since day one, Steve has been a key member of my team, serving previously as Press Secretary before his current role as Field Representative.
We loved Steve for his enormous heart, passion for life, and the joy he brought to everyone who was lucky enough to meet him. His love of God and his beautiful wife, Sara, was undeniable.
Steve will be sorely missed, but his memory will live on with those who were blessed to know him.
I ask that the Walsh family be given privacy during this difficult time."