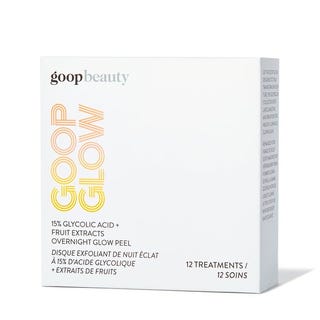 The proof is in the photos. Not much has changed aesthetically with Gwyneth Paltrow since the 1990s. While the beauty world has undergone a complete facelift on all fronts over the past three decades, Paltrow has stuck to a minimalist skin-care routine, which has also included a total clean-up of the ingredients she put on her skin. The results have her damn near frozen in time.
Despite the resurgence of all things '90s, and beauty brand attempts to find footing in the bustling clean and green space, the Goop founder has managed to create a holistic lifestyle company that offers all of the essentials needed for her streamlined beauty regimen.
So what's her secret to looking almost exactly the same 30 years later? Do less. "I've always been pretty consistent. Like I've always kind of been minimal," Paltrow tells ELLE. She adds that the one thing she has scaled back on, not by choice but after having kids, is getting professional facials. "I really don't have time to go. Sometimes when I'm in New York, which is not very often if I can get to Christine Chin, I'm so excited—but generally, I have like one facial a year now and I do them at home."
Since her 20s, Paltrow says she's religiously used two types of products: a face oil and an exfoliator. "I remember in the nineties, Christy Turlington had a face oil line that she came out with and I loved it." Before starting Goop and creating her face oil and exfoliator, Paltrow, like so many of us, says that she was a "big fan" of the beloved St. Ives Apricot Scrub. But with Goop's focus on being a truly clean beauty brand, Paltrow moved away from some of her day one products from the '90s and instead created her version of the skincare items using non-toxic and less harsh ingredients.
Goop's alternative to the throwback scrub is the brand's new Cloudberry Exfoliating Jelly Cleanser. "It has little beads in it, it feels really good, and it's foaming," Paltrow explains. The cleansing formula also has brightening vitamin C and fruit enzymes to smooth roughly textured skin. So it's a daily cleanser and exfoliating treatment in one.
Weekly skin smoothing is another ritual Paltrow has stuck to over the years. For her consistent glow-up, she says that different levels of exfoliation are key. "We have a really strong peel pad that I do once a week. Then we have the microderm exfoliator, which is awesome. And then we have the new jelly cleanser, which is much lighter." Paltrow says that she uses the most gentle of the sloughers when she gets blackheads, usually around her period.
As for revisiting some of her most iconic looks, like the red velvet Gucci suit she wore to the 1996 MTV Video Music Awards? She already has. In fact, Paltrow slipped back into the exact same suit last November to attend Gucci's Love Parade runway show. We can talk about the mindblowing fact that she effortlessly still fit the same outfit 25 years later another day.
One thing Paltrow says refuses to look back on from the '90 is bad brows. "I hate tweezing my eyebrows. I really hope that thin nineties eyebrow never comes back." Ditto, Gwyneth.
This content is created and maintained by a third party, and imported onto this page to help users provide their email addresses. You may be able to find more information about this and similar content at piano.io