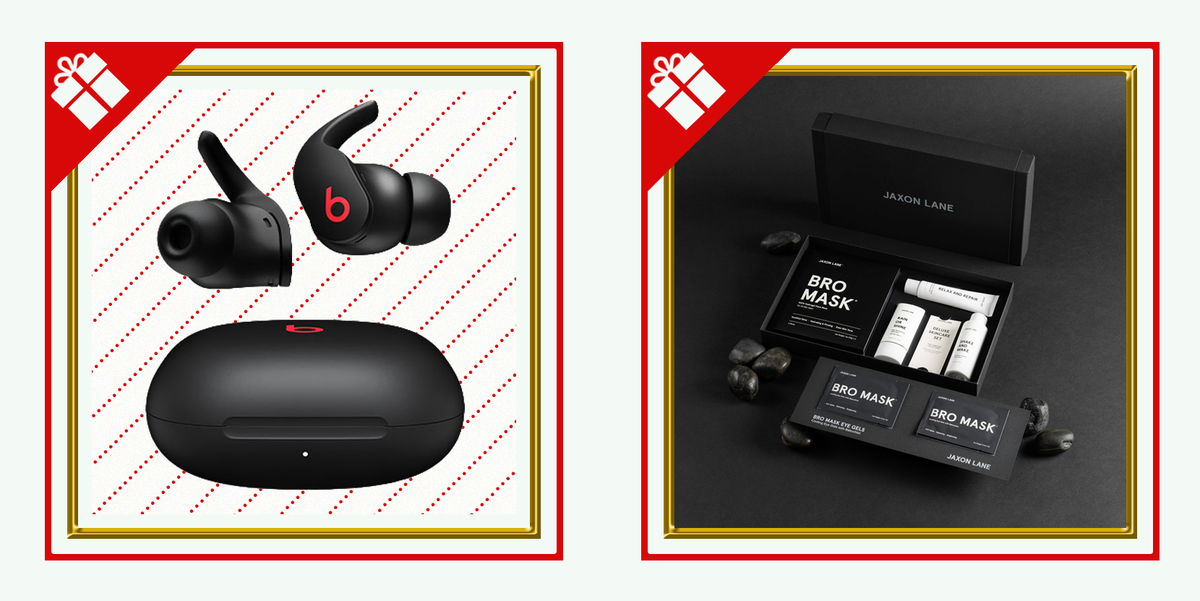 Christmas is behind us, but we'd argue that gift giving should be an all-year-long ritual, especially during these uncertain times when we could use a little pick-me-up. That's why Men's Health's editors are here to help. Our style and gear experts spent the past year testing countless products to find crowd-please gifts for everyone on your list, whether it's your family member, co-worker, or yourself (hey, you deserve it).
Ahead are 20 of the best gifts we've ever tried that are thoughtful and useful, from cozy sweats to top-of-the-line earbuds. There's some here for everyone on your list.
Read more: Best Gifts for Men
Docker's Ultimate Chinos
"Docker's makes the ultimate chino and these are the most ultimate in corduroy which is the perfect pant to level up your look. Corduroy adds a texture and polish great for getting dressed-up. The unique 360 Flex, which stretches both vertically and horizontally offers maximum flexibility and movement. Don't let the polished look of these pants fool you, they are as comfortable as sweatpants and you just won't want to take them off."—Ted Stafford, fashion director. 
Uniqlo Cashmere Crewneck Sweater
The Uniqlo cashmere crewneck sweater is a top-notch affordable cashmere sweater. You get a lot from this sweater as it's style is classic and works well dressed-up layered under a sport jacket or bomber as easily as it does casually over a t-shirt. It's a soft, comfortable crewneck in cashmere that will hold-up over time for a great price.—Ted Stafford
Read more: Unique Gifts for Him
Beats Fit Pro
If you're looking to enjoy music on your run or during your workout it's important to have earbuds that will stay in your ears. I've found it a challenge to find ones that don't fall out.
These Beats Fit Pro not only offer great sounds but stay in place even during your most active of workouts. Active noise-cancelling and superior acoustic sound paired with sweat resistance make these a great investment gift.
They are well worth it for stressless workouts and enjoying motivating tunes when breaking a sweat.—Ted Stafford
Read more: Best Wireless Headphones
Mack Weldon Silver Boxer Brief
Finding a great pair of underwear that fit well, make you feel good and are overall flattering is a triple win. These Mack Weldon silver underwear in Supima cotton have all the right elements for a fine fitting understated pair of underwear.
Stand-out features like the 6" inch stay-put inseam feels good on your leg without bunching-up and the patent Ionic+ Silver technology offers sweat-wicking, breathable elements that help eliminate odor.—Ted Stafford
Alo Yoga Triumph Crew Neck Sweatshirt
We featured the Alo yoga crewneck sweatshirt in December's treat-your-self gift guide for good reason.
This sweatshirt is soft and comfortable as heck, yet it's refined and fits well, which makes it flattering. It's made with breathable triblend fleece that keeps you comfortable and warm, but still looking polished. This is a unique sweatshirt that you will want to wear everywhere for looking and feeling great.—Ted Stafford
Lahgo Washable Silk Set
I think anyone would be considered lucky if they were to catch me sporting this undeniably handsome pajama set from Lahgo. The silk makes this an impressionable choice for lounging around, but the washable silk makes it surprisingly easy to care for, which makes one look sophisticated and elegant.—Alfonso Fernández Navas, Market Editor
Essentials Beige Mock Neck Sweatshirt
Essentials already mastered elevating sweatshirts through its nuanced, earthy color palette. The mock neck silhouette gives this sweatshirt an unexpected, classic twist without losing any of its streetwise sensibility–perfect for anyone who values both form and function.—Alfonso Fernández Navas
Club Monaco Drainpipe Pants
For those moments where we must ditch the sweats, these Club Monaco pants dress up any outfit without any of the fuss. They will complete any wardrobe and be anything but "just another pair" of black pants. I am still mourning my last pair, and I am determined to buy myself another pair—that is, if no one else does.—Alfonso Fernández Navas
Abercrombie & Fitch 90s Prep Oversized V-Neck Sweater
I am going to share a secret. Abercrombie & Fitch is making some of the best men's wardrobe staples these days, and this cozy sweater proves it.—Alfonso Fernández Navas
Jaxon Lane Deluxe Skincare Set
Given how a skincare routine should be a part of our grooming regimen, finding the right set can often be complicated or intimidating. This complete kit from Jaxon Lane has all the essentials for an easy routine with products that actually work.—Alfonso Fernández Navas 
Beoplay HX
I gave these bad boys a whirl over a six-hour flight, along with some noisy wait time at the gate—and the difference between the transparency, neutral and ANC modes was, frankly, phenomenal. Yes, they're pricey, but that feature, combined with crystal clear sound and an undeniably beautiful design, makes for standout headphones you'll keep for years to come.—Dale Chong, Gear and Commerce Editor
L.L. Bean The Hunter XL
I could wax poetic about this behemoth of a carryall tote—in fact, I already have on multiple occasions. It's a tough, weather-resistant, canvas tote bag big enough to hold your life and then some—and at most, costs $50. Plus, the camouflage print adds an edge of cool to my commutes. Of course, if you're looking for a more reasonable size, I also highly recommend the Medium and Large, which feature the same quality in smaller punches.—Dale Chong
Athletic Brewing Nonalcoholic Beer
Love the taste of beer but hate the hangover? Meet Athletic Brewing, a nonalcoholic beer brand—and favorite among a few MH editors. The brand makes a delicious range of options from golden ales to single hop IPAs—and they all taste great. If you're looking for a way to tackle Dry January or simply cut down your alcohol intake, this is it.—Dale Chong
Fable Dinnerware Set
Take the new year as an opportunity to give your home dining setup and upgrade with these beautiful dishes from Fable. They're minimal and timeless, allowing whatever you're serving for lunch or dinner to shine.—Dale Chong
Material Cookware The Copper Set
materialkitchen.com
$80.00
Speaking of dinner, why not consider a new set of cookware? AAPI-owned brand Material has a three-piece set—which includes a sauté pan, a classic pan and a pot each made with a copper core—that leaves you with the essentials. And trust, these will be the only you need.—Dale Chong
Bearaby Tree Napper Weighted Blanket
Even in winter, I'm a hot sleeper. But with Bearaby's Tree Napper, I get the serotonin-inducing benefits of a weighted blanket without sweating. I throw this on during my Netflix binge-watching, and I'm ready to hibernate until spring.—Christian Gollayan, Senior Style and Commerce Editor
Tempo Move
It had been a struggle trying to fit a home gym in my tiny Manhattan apartment. That was until I found Tempo's Move, a portable version of the fitness upstart's bestselling workout mirror. Move connects to my TV and uses my iPhone's camera to provide streaming workouts that track my form and posture. Plus, it comes with a dumbbell set for resistance training, and the console takes up as much room as an end table.—Christian Gollayan
Bloomscape Happy Hoya Collection
I've tried and failed many times to keep houseplants alive. That's why I love Bloomscape, an online marketplace for plants that are healthier than the flowers and palm trees I've bought from hardware stores. Each purchase comes with an easy-to-follow care guide, so your potted plants won't die.—Christian Gollayan
Stargaze Recliner Luxury Chair
nemoequipment.com
$219.95
Who says you have to rough it in the outdoors? This camping chair has an ergonomic design that keeps your spine aligned. It also automatically reclines, so you can enjoy nature in comfort.—Christian Gollayan
Lenovo Yoga Smart Tab
amazon.com
$229.00
$206.00 (10% off)
This do-it-all tablet has enough processing power to take Zoom calls and stream movies, which makes for a nice alternative for when I don't want to take video meetings hunched over a laptop.—Christian Gollayan 
This content is created and maintained by a third party, and imported onto this page to help users provide their email addresses. You may be able to find more information about this and similar content at piano.io