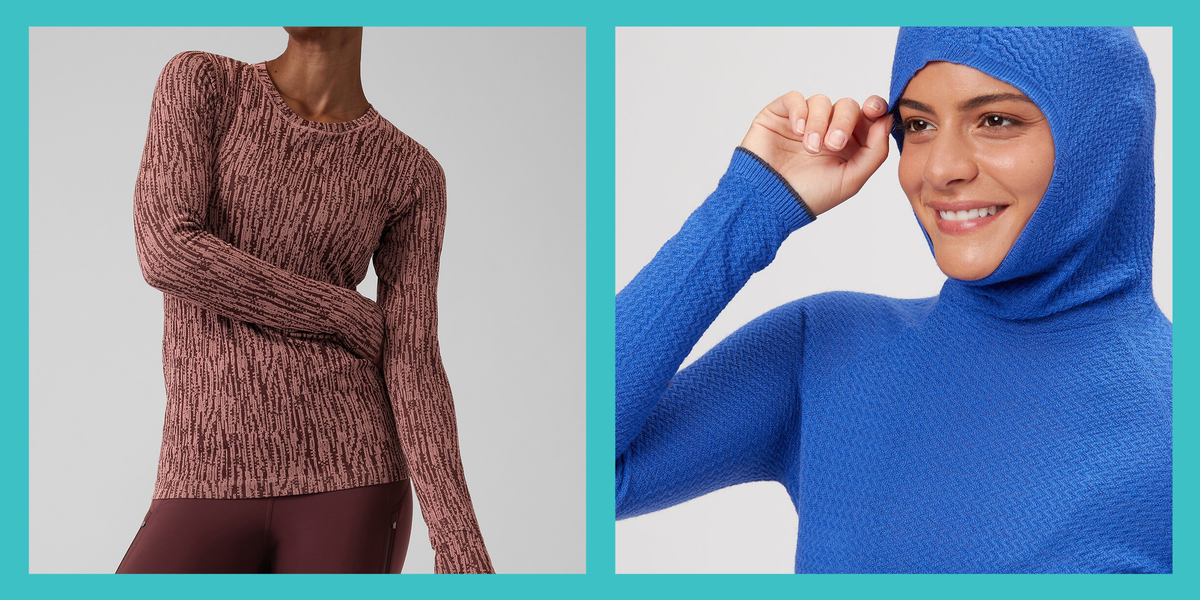 You can still get outside safely when temperatures plummet—you just need a good game plan. One way to ensure you'll stay active despite freezing temps is to invest in the best base layers for cold weather, which will keep you toasty on your next winter walk, hike, run, or bike ride.
The primary goal of base layers, which sit next to your skin underneath heavier garments, is to regulate temperature and wick moisture away from your body, says Kim Kelley, a sales associate who's recommended gear to hikers at REI in Arcadia, CA for the past 13 years. "Moisture against your body is going to make you cold," she notes.
With so many options (and so much at stake, since getting too cold can have dangerous consequences), you shouldn't rush into any decisions; instead, doing a bit of research will help you pick the right base layers for your next winter adventure. Here's how to make the right choice, according to the pros.
How to choose the best base layers for cold weather
When you're gearing up for the cold, layering allows you to control your temperature; adding or removing layers at different points keeps you comfortable. Lightweight, midweight, and heavyweight base layers are all available; midweight ones should get most casual athletes through winters in the United States, Kelley says.
Don't go with cotton. Most plant-based fabrics—especially cotton—should be avoided, Kelley warns, because they hold moisture close to the skin, causing us to cool down. Instead, pick sweat-wicking wool or synthetic fabric, which pulls the moisture away from your skin, explains Nick Jenei, coordinator of community engagement at College of the Atlantic in Bar Harbor, ME. (In fact, he says, a common maxim among outdoors enthusiasts is "cotton kills.")
Know the differences between synthetic and wool. These moisture-wicking fabrics are your "best bets, usually" Kelley explains, but they're slightly different. Synthetic fabrics tend to be pretty durable and cheaper, she says, making them more accessible, and they're a great option for vegans. More expensive wool is a little more eco-friendly and doesn't trap odors as much, the experts note, meaning it's ideal for serious athletes on multi-day adventures.
Be ready to invest. You don't need to spend a ton on all of your gear, like fleeces or windbreakers, Jenei says, but you should consider investing in durable, high-performance base layers. "Good long underwear can really go a long way," he says. Plus, there are a ton of areas to cover; beyond your chest, you should consider your hands, feet, and legs, which are often underprotected, Kelley notes. On a positive note, the good stuff will probably last you many seasons to come.
Now that you're an expert on base layers, it's time to pick some for yourself. These are the best options available online, according to reviewers.
1
Best Overall Top
Smartwool Merino 250 Base Layer 1/4-Zip Top
This 100% merino wool base layer is ideal for most winter activities: It offers great coverage, it's odor-resistant, it comes in great colors, and by virtue of its material, it excels at regulating your temperature. "This base layer really helped me feel warm and comfy in the cold morning air," one reviewer says. "The fit was perfect as well."
2
Best Base Layer Set
Thermajane Ultra Soft Thermal Underwear Long Johns Set With Fleece Lined
Bundle up for the cold with this all-in-one affordable set. Lined with cozy fleece, this top and bottom combo fit nicely as base layers beneath your favorite winter gear. And, it has over 25,000 Amazon reviews! "Bought a set of these thermals in each color for my trip to Alaska over the Thanksgiving holiday," said one satisfied customer. "Wore them under jeans, leggings, snow pants, depending on the activity of the day. At -14 degrees they kept me warm and they are super soft and comfortable."
3
Best Overall Bottoms
Smartwool Merino 250 Base Layer Bottoms
"Legs are really frequently forgotten, and often what gets really uncomfortable outside," Kelley warns. But these midweight, 100% merino wool bottoms from beloved brand Smartwool—especially under windproof, waterproof pants—won't leave you freezing. "Several things I love about these pants are the wide, soft waistband; the perfect, full length of the pant; and the thickness," one reviewer writes.
4
Best Value Bottoms
Under Armour Base Leggings 2.0
These might look like any other Under Armour leggings, but they're meant specifically as a base layer, meaning they walk the line between warmth and breathability. No, they probably won't work solo, at least on chilly days—but under winter pants, they're an affordable gem. "I have gone running at 5:30 in the morning when the temp is 10 degrees or lower and they work!" an Amazon reviewer says.
5
Best Glove Liners
Tough Outdoors Running Gloves
Mittens are ideal for keeping your hands warm on chilly days, both experts say, but glove liners with fingers don't hurt when you need to pull off your mittens. These ones are affordable, made from synthetic materials, and well-liked by Amazon reviewers, and they even come with tech-friendly tips, which Kelley recommends for ease of use with your phone.
6
Best Value Top
Uniqlo HEATTECH T-Shirt
Made of synthetics polyester, acrylic, rayon, and spandex, this affordable Uniqlo top proves that base layers don't have to break the bank. It "fits like a second skin, feels soft and smooth, and allows you to be warm without sweating," a reviewer raves. (It comes in warmer and extra-warm varieties, too.)
7
Best Upgrade Top
Arc'teryx Rho AR Zip-Neck Top
Boasting a cozy lining, a flattering design, durable synthetic fabric, and a genuinely warm construction, this half-zip base layer is up to almost any task. "It is very flexible and breathable without making it too warm while on the slopes," an Arc'teryx reviewer explains. "It is the perfect base layer."
8
Best Liner Socks
Injinji Liner Crew Socks
Yes, these toe socks will feel a little weird when you first put them on. But thanks to their anti-blister, sweat-wicking design, they'll keep your feet warmer and happier inside larger, warmer socks—a must for winter walks or hikes. (For best results, combine these with some merino wool socks.) "It holds and dries my feet sweat AND prevents bad odors," writes one Amazon reviewer. "Although I sweat, the liner sock absorbs it, which allows the thickest wool socks to stay dry and keep me WARM."
9
Best Upgrade Bottoms
ICEBREAKER 250 Vertex Fractured Landscapes Legging
Your leggings don't have to stand out, but it's a bonus if they do. These bottoms from Icebreaker, made from moisture-wicking merino wool, look cool while keeping you warm—and they're even protective against harmful UV rays. Extra details like a comfy waistband and flat seams ensure they'll become something like a second skin.
10
Best Heavyweight Top
Icebreaker 250 Vertex Half-Zip Base Layer Top
Plunging temperatures call for a base layer that doesn't skimp on warmth, and this one, made with merino wool, is up to the task, whether that's snowshoeing or just walking the dogs. "I love this in so many ways," a reviewer notes. "It is cozy and classy, and will be well-used as we get into winter weather. It washes well and has a nice feel to the fabric."
11
Best Heavyweight Bottoms
Columbia Baselayer Heavyweight II Tights
You'll find thousands of silver dots inside these heavyweight leggings; this tech reflects your heat back at your body, helping you feel warmer on the coldest days. The sweat-wicking polyester will keep you feeling dry, too. "I am always cold, so finding solid base layers is key for me, and these definitely fit the bill!" one reviewer raves. "They're super thin and stretchy—perfect for layering under snow pants."
12
Best for Running
Athleta Flurry Elemental Top
Complete with thumb holes, an eye-catching print, and seamless construction, this top was made with runners in mind. But you don't have to run to reap its benefits, which include powerful moisture-wicking and insulation; whether you're shoveling your driveway or backcountry skiing, you'll appreciate it. One reviewer, for example, loves its stretch for running, yoga, and Pilates.
13
Best Plus-Size
Land's End ​​Thermaskin Heat Thermal
Whisper-thin but still quite warm, this lightweight base layer is ideal for layering. Its polyester-spandex blend has just the right amount of stretch, reviewers say, and it's genuinely beloved. "These undershirts are a godsend for a person who lives in an area that can get very cold during the winter," one writes. "They're very warm without being at all bulky."
14
Best Anti-Odor
Kari Traa Rose Half-Zip Top
Combining the natural warmth and odor-resistance of wool with one of the coolest prints we've seen on a base layer, this midweight base is ideal for spending a day on the slopes or in the woods. Its half-zip construction will come in handy if you start to overheat, too. "The merino is super soft and does not itch," a reviewer explains. "It also keeps out any odors for a few wears. I've once worn mine five times in the backcountry and it did not smell whatsoever!"
15
Best with Hood
Patagonia Capilene Air Hooded Top
This Patagonia base layer has a balaclava-like hood, meaning it will protect both your chest and ears from the elements. It's half-wool and half-polyester, combining the heating, moisture-wicking elements of both, plus the odor-resistance of wool and the durability of synthetics. "This is my favorite base layer I've ever had," one reviewer writes. "It is crazy comfy, breathable, and wicks sweat better than anything else! I've worn it multiple days in a row without it smelling."
This content is created and maintained by a third party, and imported onto this page to help users provide their email addresses. You may be able to find more information about this and similar content at piano.io