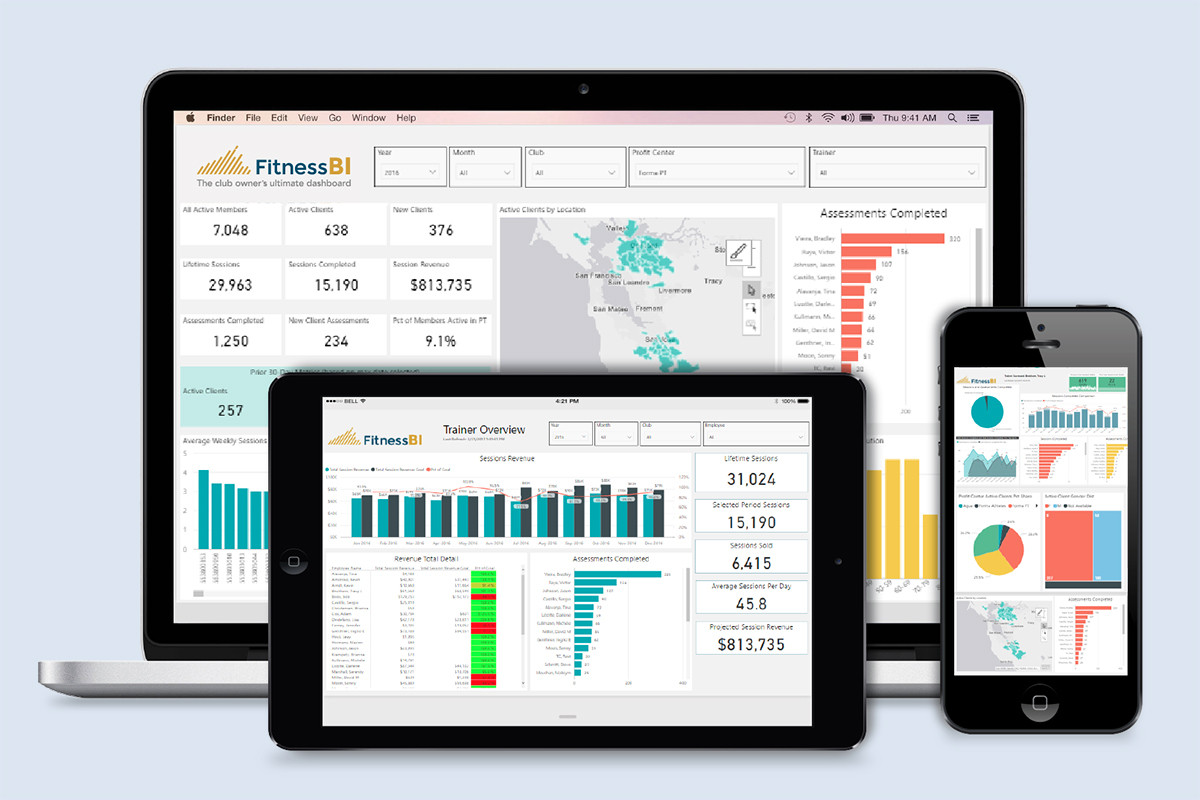 We were unable to send the article.
ABC Fitness Solutions of Sherwood, previously known as ABC Financial Services, recently acquired online platform Fitness BI of San Francisco and launched another platform called ABC+.
Both are part of the company's plan to become a "single source of truth," or a one-stop shop, for the fitness club operators that it serves, according to CEO Bill Davis.
Fitness BI's technology will help ABC's clients spend less time collecting and analyzing data and help them make informed business decisions based on that data, he said.
ABC clients will be able to use ABC+ to create a mobile app with their own branding that can deliver online and live-streamed content such as training, video-based classes, tutorials, behavioral and nutritional coaching and motivational challenges via smartphones and wearable devices like the Apple Watch. Fitness club members could use the app to manage their accounts, check-ins and class bookings, to purchase new services, message trainers, video-call coaches or the club's staff, earn badges, join groups or participate in daily workout challenges.
Davis declined to disclose the purchase price for Fitness BI, which will be integrated into a new suite of products and services called ABC Performance Insights Data Warehouse-as-a-Service.
ABC clients can buy Fitness BI as part of that suite or on a standalone basis. The price varies but is about $200-$300 a month per club plus implementation fees, he said.
"The reality is that most club operators spend anywhere from an hour to two hours a day analyzing data that's typically coming from eight or nine different systems, which increasingly is making it more and more difficult for them to garner valuable insights and actionable direction," Davis said. "And the value of Fitness BI is that it brings the ability to have all of these disparate systems provide their data into this single source that can be analyzed in a streamlined fashion."
That's why ABC acquired Fitness BI, Davis said.
He offered examples of the data and decisions fitness club operators could collect, analyze and make using this tech.
Operators, he said, could find out which amenities offered by their clubs are most effective at retaining members, then decide to continue offering and promoting those amenities.
Or, if they find out a member who comes to their club three days a week is more likely to stay a member for six months longer than a member who doesn't come as frequently, the operators can make that extra effort to encourage members to come to their gym at least three times per week.
Fitness BI's team of 15, including CEO and co-founder Robert Jackson, are now ABC employees.
This was ABC's third acquisition in the past nine months. The company acquired fitness sales management tools provider GymSales of Melbourne, Australia, in July, and Trainerize of Vancouver, British Columbia, in September.
Trainerize provided mobile fitness technology for personal training and member engagement.
Davis said all were "in support of our ongoing effort and related commitment to create the most holistic and modular club management solution in the industry.
"And we believe that we can do it in a way that will reduce total cost of ownership for club operators, while at the same time providing an enhanced or an improved experience for their members."
ABC+ is the organic growth part of that effort, Davis said.
He said the pandemic accelerated an industry shift toward fitness club members expecting their clubs to offer a mobile "total fitness experience" that integrates wearable technology and serves them wherever they're working out — at the club, at home or on the road.
"So we see a tremendous opportunity for clubs to create a comprehensive digital offering that we believe will improve engagement, foster a greater sense of community and add value to the members' fitness journey, and do all of that through an integrated solution," he said.
New ABC+ features will be released on a quarterly basis for at least the next nine to 12 months, and the company has 50-60 employees working in some capacity on that offering, Davis said.
He said the technology will be offered to clients via a monthly subscription model. The price will vary but will be in the hundreds of dollars, like the Fitness BI technology.